RALPH, ALBERT & SYDNEY
Fans' Album Reviews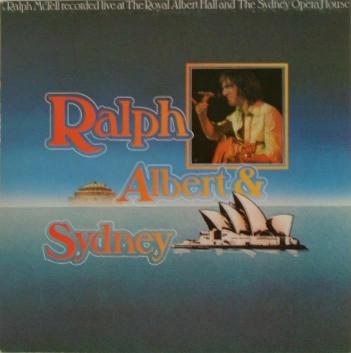 If you would like to share your thoughts on any of Ralph's recordings, Email them to me and I will add them to this page.
Bridge of Sighs Review
by Mike Cohen
Bridge of Sighs - Ralph McTell - Leola Music TPGCD27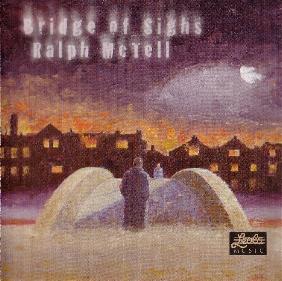 As I listen to Jerry Donahue's silky smooth Knopfler-like guitar riffs in "Throw Out a Line and Dream" my mind wanders to where I was and what I was doing 21 years ago in 1986. I was living in Brighton with my then girlfriend, later to be my wife, and working as a GP Trainee. We looked after an elderly population and there were many home visits. It wasn't too bad as I listened endlessly to my cassette recording of the vinyl copy of Bridge of Sighs as I went about them. I think it was interspersed with a recording of Ralph on the then excellent Jim Lloyd's Folk on 2. I wonder where that cassette is now and remind myself to check whether it is in the loft. I shall have to dig it out again.
So it was with much delight that last night I bought a copy of the last of Ralph's vinyl backlog, now finally on CD, at his concert in Bristol. Incidentally, Ralph played a belter of a gig to a full and appreciative house at the beautiful St George's at Brandon Hill.
This phase in my life heralded a return to some sort of stability as in the preceding years I had spent relatively short periods working in various hospitals. I had lost touch for a while with Ralph's music and his live work. It also coincided with a period in Ralph's professional life when he was emerging from his career on children's television and returning to writing and performing for a more mature audience. Well, we were sort of adults I guess!
I love this album. It contains some of his strongest work. Songs such as Mr. Connaughton, The Girl From The Hiring Fair, and The Setting have stood the test of time and still regularly appear as part of Ralph's live set. I remember the early evenings as I ran through the Old Steine in Brighton just as you approach the Palace Pier. Hundreds of starlings used to roost in the trees... just like apples.
Musically Ralph is accompanied by his old best mates from Fairport Convention as well as long time associates such as Graham Preskett, Alun Davies, Jerry Donahue, Maartin Allcock, Richard Thompson and Danny Thompson. Backing vocals are performed by Benny Gallagher and, as with all of Ralph's albums, there are some lovely strong harmonies. Ralph is responsible for the overall production.
There is an insightful critique of the songs written by Paul O.Jenkins who is somewhat of an authority regarding Ralph's work. He explains that "the songs serve to highlight McTell's keen understanding of the human condition and his ability to translate it into song". Peter Thaine again is responsible for the lovely cover illustration and overall design which is as tasteful as ever.
A few years ago I remember Ralph in his usual self deprecating way tell a story about this album when it was out of production and the fact that some of his older albums were appearing at car boot sales for only a few quid. He quipped about someone asking if the album was still available and it being requested as "Bridget's Thighs"!
Last night at the concert's conclusion I gazed at the merchandise desk and pondered at the man's artistic output laid out in front of me. I was speechless and quite moved. The sheer quality of his work is astonishing. And though the years have flown, the years have gone we are indeed blessed to still have him around writing and performing as strongly as ever.
So why not buy yourself a copy of this timeless album and turn back the clock?
Mike Cohen
Bristol, Thursday, April 19, 2007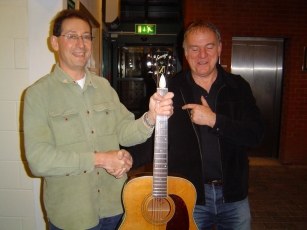 Mike with Ralph - Swindon 2005
__________________________________________________________
Ralph McTell: 4-CD Compilation - Leola Music TPGCD30
Release Date: February 14th, 2010.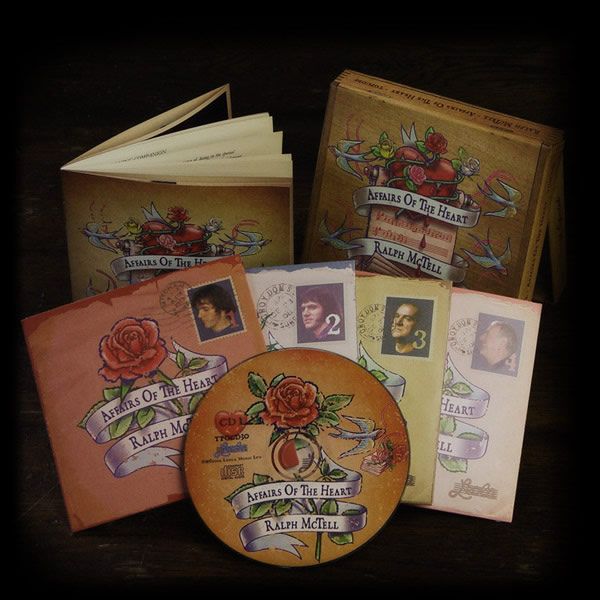 'Affairs of the Heart' is a wonderful compilation of 56 of Ralph's love songs, covering the full range of romantic experience from 'When they were young' to 'Bicker and rue'.
The presentation is carefully designed on a number of levels - the four CDs and booklet are housed in a facsimile cigar box redolent of a more romantic era; the 'billet doux' CD envelopes are franked with 'Mitcham' and 'Croydon' postmarks (following 'The Journey' theme?); and the booklet has helpful 'discography' links that make it a representative sampler of Ralph's current CD catalogue. In fact it makes an ideal McTell 'starter pack' - a splendid gift for Valentine's or any other day - and at a bargain price from Ralph's website shop.
Rory McGrath - a big Ralph fan - has written comprehensive notes on the tracks, which include all 23 songs from the 1989 'Collection of His Love Songs' (though not all are the same recording). The additional material is mostly more recent, including six from 'The Boy With a Note'. For the track listing see Trackin' Back.
The price from the McTell Shop is £22.45 including postage to UK addresses.
John Beresford, February 2010
__________________________________________________________
'Affairs of The Heart' Review
by Keith Littlechild
Ralph McTell - 4CD Box Set – released 14 February 2010.
On the face of it, what one person said about this new album seems correct:
'… this release cannot be aimed at the regular fans - we already have all the tracks several times over. It can only be intended for NEW fans who want a representative sample of Ralph's catalogue'.
There's a danger this could also be widely felt amongst Ralph's other regular fans; and I feel they'd be seriously missing out. Having listened to the set, I honestly believe there's much more to it. I don't know who this new box set was originally '...aimed at', but the rationale and exercise of grouping those 56 songs together was well worth the effort.
'Regulars' will be missing out hugely if they dismiss it as something they already have, albeit scattered across their collections of Ralph's previous albums. Apart from new re-recordings of some earlier tracks, I was also pleasantly surprised to find 'When They Were Young' included. (I've got used to hearing it live recently, and, although it appears on the 'As Far as I Can Tell' talking book, it still seems so new to me I had expected it to be released on the forthcoming studio CD - for which recording sessions are in progress as I write.)
However, I've been really enjoying the new boxed set, 'Affairs of the Heart', listening WITHOUT initially looking at the track listing. NOT knowing what's coming up next is nice, much like being at a live concert.
It's great to hear such an inspired song set grouping and I'd encourage any regular to try averting their eyes from the listing before playing. Just DON'T look! The experience is further enhanced by hearing the immediate comparison of Ralph's voice changes over the long time span; all personally very moving on a number of levels for me.
The benefits of 'shuffling' the sequence order of an album are familiar; the songs often seem different when they don't follow or precede the one expected from many listenings in the original order. However, the songs contained in 'Affairs of The Heart' are far from having been randomly 'shuffled'. Most regulars will already know Ralph strives to achieve continuity in his concert sets, with a usually seamless transition through the wide variety of song themes and instrumentals. This partly explains why audiences remain enthralled throughout the entire performance.
During the 2009 Autumn tour I was fortunate to see, and would like to share, some of the preparation and effort Ralph puts into the set list for each concert, blending in requests received before (and sometimes even during) the show.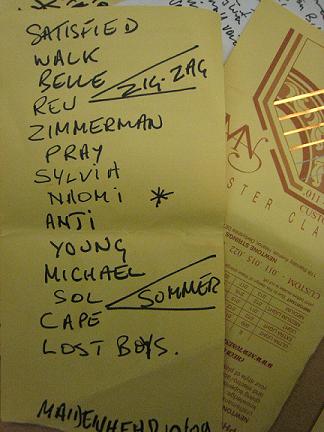 Many of you will be aware, guitar players in particular, from his interesting article 'The Love of a Freshly Strung Guitar', that Ralph treats Miss Gibson to a new set of 'Newtone' strings before each and every live performance. This task is carried out following sound check and it didn't surprise me that Ralph does the job himself. And yes, he really can do it in about 5 minutes! New strings ensure optimum sound quality but I think the process also helps Ralph focus and prepare mentally for his performance.
However, what did surprise me was that in the quiet period that follows sound check Ralph uses the reverse side of the now empty string pack liner on which to construct his set list. Pictured left is the one from Norden Farm at Maidenhead
It was one of the nicest little revelations of the tour for me; practical poetry and environmentally responsible too! A simple example which may indicate that little or nothing is wasted by this gentle man, conscious of his carbon footprint.
Ralph also looks for, and can usually find, poetry in everyday events many of us would likely miss; until they appear in a song.
Anyone who has been to more than one concert during a tour knows that the set list changes, sometimes considerably, although clearly there usually has to remain a central core of songs.
Significant though constructing a concert set list is, I suspect a great deal more thought, time and effort went into to selecting and sequencing the tracks on the 4 discs which comprise 'Affairs of The Heart'. It can't have been easy to make the theme work artistically, enable it meet all the technical requirements, disc space etc and constraints of the very neat presentation package as well.
I sincerely hope this boxed set album will reach a lot of the 'First Timers' who came to Ralph's concerts during the Autumn Tour. Perhaps surprisingly, exactly a third of those surveyed were in this category.
But, equally importantly, I hope that regulars will seriously consider it too, because it is so MUCH MORE than merely a re-issue of a collection of older material, as may at first appear.
It deserves to be a success.
Keith Littlechild, April 2010
With thanks to Ralph and Leola Music Ltd for permission to use pictures of Ralph's concert set lists.
__________________________________________________________
Ralph McTell - Leola Music TPGCD31
Release Date: October 18th, 2010.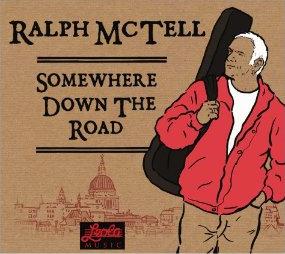 "When I walk the streets of London I am constantly amazed how a road I never was on before leads to one I know…"
Had Ralph McTell's artistic output in the last ten years not been primarily concerned with telling his life story, his new studio CD would have done the job very nicely. 'Somewhere Down the Road' takes us on a musical journey down the highways and byways that McTell has travelled all his adult life.
In the opening track he announces himself as 'The London Apprentice', who, although born and bred there, never learns all her secrets. 'Reverend Thunder' pays homage to the Rev. Gary Davis, one of McTell's earliest country blues heroes; and the roll-call continues with Woody Guthrie and Sonny Terry, whose songs encouraged young Ralph to sling a guitar over his shoulder and 'Walk into the Morning'.
An old black and white film of a sailing ship battling the elements as it fights its way 'Around the Wild Cape Horn' provides the inspiration for the next track, and then 'The Ghost of Robert Johnson' still waits at the crossroads for the Greyhound bus to arrive.
On first hearing, 'Rosalinda' sounds like a Nashville cliché, but her story is far removed from the usual fare. She's 'so fixated in self-pity' that Ralph encourages her to 'burn like the candle flame, don't be the cinder'; but, in the end, though 'each time the phone rings, it's maternal hope that springs… it's just a fluttering of wings against a window'. Oh, Roslinda!
'The Break of the Union' laments the possible parting of Scotland from England, and hopes that we may yet 'Extend the hand, unclench the fist, before all bridges burn'. A brighter outlook celebrates 'One Sunny Day', set to a tune evoking Ralph's memories of French cinema; whilst his early visits to Cornwall provide the inspiration for the tale of 'Cannabis Creek'.
The theme of 'forgotten memories' continues with 'Moon June and a Cajun Tune', in which a reluctant dance-goer is enchanted by the Louisiana night. Then 'A Kiss in the Rain' tells the charming story of how Bert Jansch learned 'Blackwaterside' from Anne Briggs – art imitates life imitating art as two people sing two versions of a folk song about two people – 'the story it told would be much like their own, except for deception of which there was none'.
McTell has a penchant for seeing the poetic possibilities in the seemingly mundane. A line remembered from 'Citizen Kane' becomes a love song to 'a fleeting glimpse of chances missed' as Bernstein momentarily spies 'The Girl on the Jersey Ferry'. Then Ralph digs into his mother's childhood memories for a musical version of 'Who do you think you are?', as Win recalls her parents and grandparents in 'Lantern Slides'. The poetry of the moment is enhanced by the singing of two of Ralph's own grandchildren – six generations in a six-minute song that finishes with three words announcing Ralph's own arrival – 'Win met Frank'.
Which brings us neatly back to where we started – Ralph walking the streets of London and finding that every road travelled returns to one he knows well. During his 'Dylan, Guthrie and the Country Blues' tour a few years ago, whilst playing a guitar riff learned from one of the masters, Ralph said, 'Without those (songs) there would never have been this' - and he segued into the instantly-recognisable chord sequence that announces 'Streets of London'. Similarly, he ends this set doing what he does best – playing the English urban blues. The guitar part on the title track is a tribute to Jesse Fuller, but the lyrical poetry is all Ralph – ''Somewhere Down the Road' is not goodbye; it means we'll meet again or at least we'll try.'
'Somewhere Down the Road' is available from the usual high street and internet outlets, or directly from the McTell shop – or from the merchandise stalls at the 'Somwhere Down the Road' tour venues.
John Beresford, October 2010
__________________________________________________________
Some thoughts from Jenny Melmoth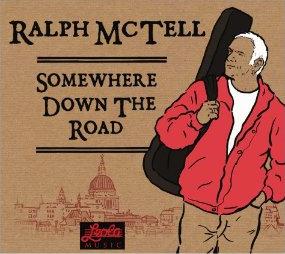 Absorbing a new Ralph McTell album into the bloodstream has always been a joy and this one is no exception. The tunes take it in turn to dance through my head. The overall impression is of a gentle feel, without the harder edged songs found on Red Sky or those on albums of earlier years like Pick Up a Gun, Birdman, Gypsy, Water of Dreams, Lost Boys or the superb Peppers and Tomatoes.
Somewhere Down the Road is packed with affection as well as compassion, looking back down the road already travelled, calling on memories, whether Ralph's own or those of other people, sometimes even making references to older songs, but with his usual empathy and always (with the exception of Cannabis Creek, where there is conflict) seeking resolution. This is true even in The Break of the Union, which I still think has something in common with Bridge of Sighs, for despite all the changes described in Ralph's blog**, it seems nonetheless to have resonance with personal relationships.
I love the spooky-blues of The Ghost of Robert Johnson, and the catchy foot-tapping dance rhythms of Moon June and a Cajun Tune - plenty of references to the moon and to water on this album. Some of us have felt in need of help with Rosalinda, because of the apparent disparity between the words and the jolly tune. Such a gap is unlike Ralph - (contrast this with Sylvia on Not Till Tomorrow where the music reflects the sympathy and empathy of the singer with the depression endured by Sylvia Plath). Thus there has to be a good reason for any perceived mismatch; it can perhaps be explained by thinking of the song as a pep talk being given to someone caught in a cycle of inadequacy and feeling selfishly sorry for herself.
Though there were a few concerns with the Croydon French, One Sunny Day is a little gem with its pretty tune and delicious lyrics. What with 'drunken bees .. bumbling' and 'a peal of bluebells ringing' not to mention 'blinking spokes soon spinning' - it makes one's toes curl with pleasure, while the four lines near the end, should be in a poetry anthology:
'In aching joy for passing time / Each precious note confessing / Like beads of sound from rosaries / Into a font of blessings'
I found the blog** about the making of the album fascinating, the more so once I could listen to the finished product. It helped many songs to drop into place. Anyone who (like me) loves London will appreciate The London Apprentice, and I found Lantern Slides enchanting and evocative of another era. So much is left unsaid in that last line and the way the music just stops, leaving the listener to imagine onward into that silence - like the best of haiku. Moreover, the linking of the generations, the juxtaposition of a song about Ralph's mum (Win) and her family with the voices of Ralph's own grandchildren, is extraordinarily moving.
Around The Wild Cape Horn surely has to be a universal favourite, with its vivid and entrancing recapture by an old man of his young adventure. Apart from that, the two pivotal songs for me are Walk Into The Morning and the title track, Somewhere Down The Road. The former - Ralph's recall of what it was like as a young man setting out on the road - contains some of my favourite images. 'I lay memorising stars/like some deserted lover with my arm round my guitar' or 'The evening sky is fading/ To the colour of my jeans/I'm writing with my finger/In the dust that falls from dreams'. The beautiful words plus the harmonica (always a winner for me) make it unforgettable. Somewhere Down the Road makes me cry. It seems a song preparing to say 'goodbye' or at least au revoir, for we have to recognise that the time will come (please let it be still a long way off) for Ralph 'to cut him a little slack' and you can already feel the emotion of those last concerts in this song, when if he could bring himself to sing it, the entire audience and probably Ralph too would all be in tears!
This autumn we are lucky to have Ralph on tour and be able to hear him perform many of the songs from Somewhere Down the Road live in sell-out concerts. But for anyone not fortunate enough to get a ticket, this new album is a fine consolation prize.
Jenny Melmoth, November 2010
** Diary of a CD: Occasional Notes on a new Recording, on Ralph's website.
__________________________________________________________