RALPH, ALBERT & SYDNEY
Fans' Concert Reviews 2012 -

If you would like to add your thoughts on any of Ralph's performances over the years, Email them to me and I will add them to the appropriate Reviews page.


2018
2017
2016
2015
2014
2013
2012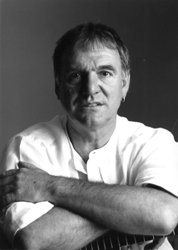 St George's, Brandon Hill, Bristol
Wednesday 3 October 2018
Reviewed by Mike Cohen. Smith & Brewer photo by Mike; photos of Ralph by Carol Gullick
Preamble

Ralph was in very fine form as the Autumn Tour tour kicked off in Bristol. The audience was highly appreciative. There was a lovely Steinway grand piano on stage as well. He was very ably supported by the excellent duo of Smith and Brewer who are soon to join 10cc on tour.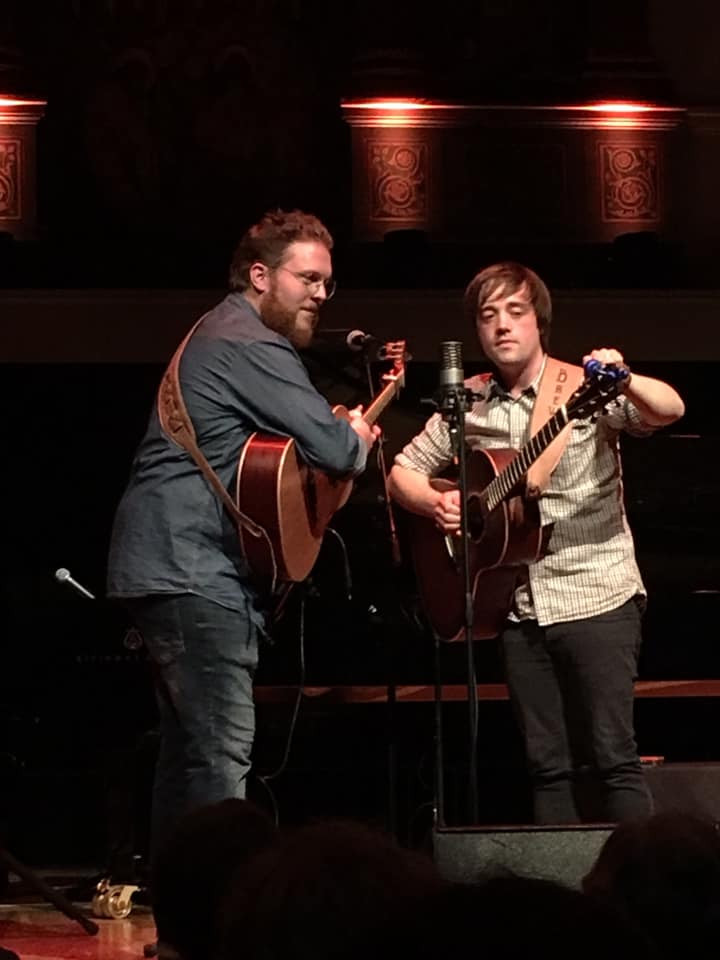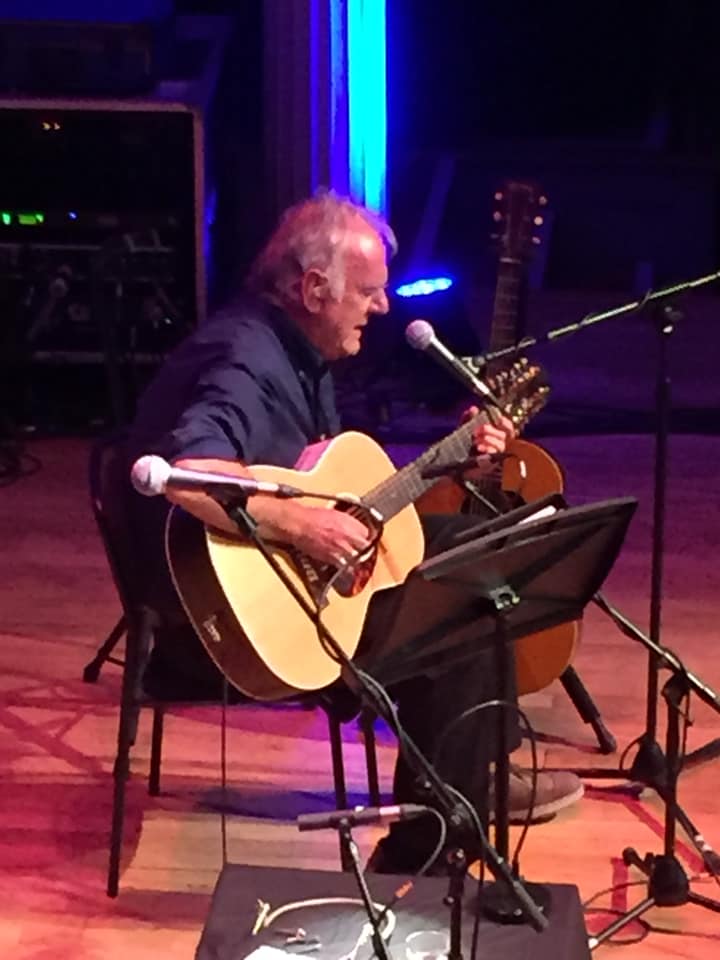 Review

So here we are again just about ready for the first show of the 2018 Autumn Tour. My mind meanders as I wait for Ralph make his entrance. I'm remembering September 1973 when I sat on the floor at the Great Hall of Imperial College, which is just down the road from the Royal Albert Hall. That evening Ralph hit the stage with his J45 and my most vivid memories were his rendition of Hesitation Blues - I'd never heard guitar playing like this before. I also loved the songs he played with Danny Thompson who was on double bass. It started my own musical journey and opened up a world of blues, folk, song writing and poetry.
Fast-forward 45 years and I tell a friend who is into music that I am off to a McTell concert to which he replies, "Oh, has he still got it?"
Ralph strides on looking tanned and relaxed. It looked like he must have had a good summer. He starts off with First Song and from that moment on he delivers a varied and entertaining set of songs from 1968 to the present day. For company he has his beloved Miss Gibson 45 and his Tom Mates 12 string as well as a Steinway Grand Piano. He tells the audience that the 12 string has a twin in Bristol. Lucky me.
Song after song seem to rush on past. Tonight there is less chat but still time for humorous anecdotes and stories. He has just been on TV- Later... with Jools Holland - and I wonder in many ways if for Ralph this has been a shot in the arm.
He tells us he has been invited to Ypres as part of the commemoration ceremonies to mark the centenary since the end of World War 1. He then sings the haunting and evocative Maginot Waltz.
His set ends with West 4th Street and Jones. I ask him after the show if Bob Dylan will hear this song. He thinks he will. Wouldn't it be nice if he tells Ralph if he has - especially if he likes it?
He encores with the Big Bill Broonzy version of The Glory of Love. This one really swings and the guitar playing has the McTell trademark.
So, has he still got it? Silly question. Ralph is still on top of his game.
We are so lucky to have him around singing and playing so well. Go and catch him on this Autumn Tour. You will not be disappointed.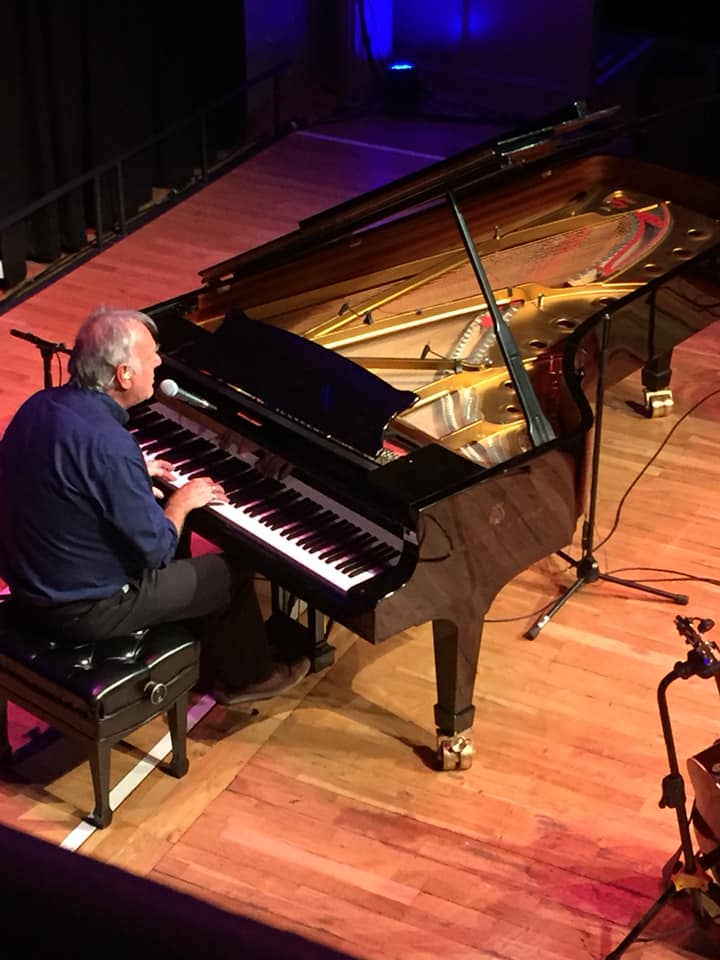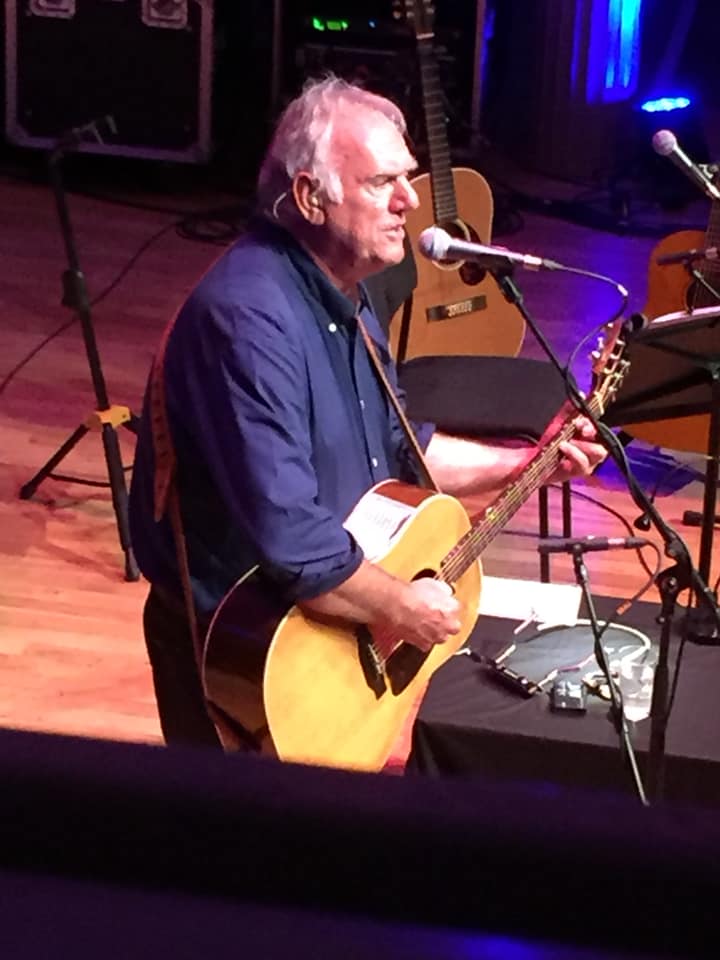 Ralph's Set
First Song
Walk into the Morning
Mrs Adlam's Angels
Brighton Belle
Old Brown Dog
Michael in the Garden
Naomi
The Ferryman
Streets of London
Rosalinda
One Sunny Day
Mr Connaughton
Maginot Waltz
West 4th Street and Jones
Glory of Love (encore)
back to top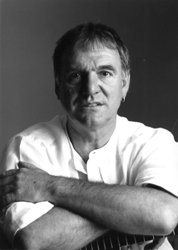 Jubilee Central, Hull
A Memorable Concert Evening at the Jubilee Church Hall
Friday May 25th 2018
Reviewed by Jenny Melmoth, with photos by Valerie Coulter and a Postscript by John Beresford.
Review

Hull is an interesting city for many reasons, not least that in the 24 hours spent there we never saw one scrap of litter. The people too are markedly friendly, and having sussed out the venue early afternoon we were set fair for a great evening with a 7.30 pm start.
Arriving at 7.10 in a slightly chilly breeze we were treated to the novelty of a long queue waiting for the doors to open. Surely a missed opportunity for the buskers of Hull? Enjoying the thrill of slowly edging forward into the venue when the doors opened five minutes later, we were firmly in our unreserved seats by 7.30 pm. The 600 seat auditorium has high windows either side in modern glass (50s/60s?) which were only partially covered with blinds, and since darkness does not fall till much later we wondered how this would work, knowing that Ralph prefers not to see the faces of his audience till after the show.
No need to worry - there was a cunning plan, though announcement came there none. We waited, and waited, and waited some more so that expectation built beautifully and then at 8pm the performance began with a terrific surprise. Announcement came there none, but on to the stage stepped a slight figure with long blond hair, a guitar and a pretty singing voice. We have a vague feeling the young lady may have said her name but no one round us caught it, neither (with my rather dodgy hearing) could I hear a word she sang, which made the air of mystery deeper and meanwhile the guitar work was sort of lovely. She was with us a full half hour and then - oh joy - there was an interval with the adventure of exploring the unisex loos.
Keeping the tension high, for announcement came there . . . . after 20 minutes we sensed that something was soon to happen and at 8.50pm Ralph arrived on stage and command instantly taken. With his usual sensitivity he began by chatting to us rather than going directly into the first number and this was what was needed. From then on the evening followed a much more familiar pattern, the one we all know, love and respect, with Ralph - just using Miss Gibson and harmonica - in great form and playing some of my favourites, notably Gypsy. There was one further exception to these calm waters - Ralph had to ask for the house lights to be dimmed on the audience and this was achieved enthusiastically - with the lights also going out on Ralph himself, so that for the rest of the evening he was just backlit, very faintly, from the rear of the stage. Ah yes, I'll remember it well - thank you Hull!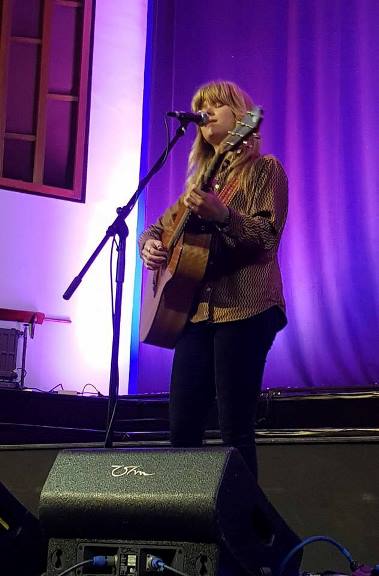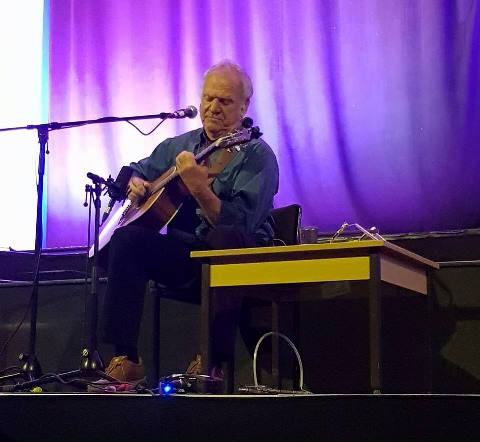 Ralph's Set
Hesitation Blues (trad: with several artists claiming lyrics)
First song
After Rain
Diddie Wa Diddie (Blind Blake)
The Girl from the Hiring Fair
Stranger to the Season (with harmonica)
The Girl on the Jersey Ferry
From Clare to Here
Zimmerman Blues
The Ghost of Robert Johnson
Gypsy
Let Me Down Easy
Streets of London
West 4th Street and Jones (with harmonica)
Encore When Did You Leave Heaven? (from the singing of Big Bill Broonzy)
As short a list as we have ever had I think, but then Ralph was very chatty which was nice.
Postscript
Those with local knowledge used their social media to identity the mystery 'support' as Katie Spencer. The lack of communication on the night - no explanation of the long delays, no prior mention of a support act, no introductions - was the cause of some mumbling among the audience near me; which, as the evening finally got going, was amply compensated by Katie's prowess on the guitar and an excellent set from Ralph.
back to top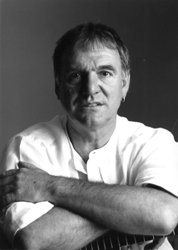 The Half Moon, Putney, London
Ralph's 73rd Birthday Benefit Concert for Crisis at Christmas
Thursday 7 December 2017
Set list by Jenny Melmoth, annotated by John Beresford, photos by Andy White and Jill Tupper, and comments from Facebook.

Photo by Andy White


Photo by Jill Tupper

Review

The concert was opened by Ben Smith and Jimmy Brewer, who had won the 'open mic' competition on Ralph's recent tour, and had opened for him at the London Palladium.

Then Ralph, with Graham Preskett on fiddle and accordion, sang:

First song
Now this has started
Weather the storm (Ralph: 'This has a chorus' - so we joined in on this and all marked 'Ch')
First and last man ('So does this') (Ch)
Lost boys
The London apprentice
Song for Martin ('I wrote two songs for him')
In the dreamtime ('When Billy asked me to help with World Tour of Australia, I said I had a tune he could use') (Ch)
Let me down easy ('From the album called easy but wasn't) (Ch) (requested by Jill from Sweden)
The girl from the hiring fair ('I wrote it for Fairport Convention. but they didn't want it at first... now a staple in their repertoire')
Ralph introduced Tom Mates to the stage ('More than a luthier - expert Piedmont blues guitarist') for the next two songs:
Untrue blues
You gotta change your mind
When they were young
Peter Thaine was introduced for the next two. (Peter designed the Spiral Staircase album cover and others - and plays guitar)
Last train and ride ('If I can remember the words - haven't sung it since 1969')
Spiral staircase (Ch)
West 4th Street and Jones ('The title song of my next album')
Short interval (welcomed by some of a certain age)
From Clare to here ('I found it in a book of traditional Irish songs') (Ch)
Kenny the kangaroo (with refrains)
Tequila sunset (Ch)
Ralph welcomed Wizz Jones to the stage for:
Ghost riders in the sky (Ch)
Ralph introduced his final guest - David Mann ('Recent friend helping with social media' - and bass guitarist)
Stealln' (Ch)
Streets of London (with massed choir)
Somewhere down the road (Ch) (with harmonies by Ben and Jimmy).
Comments from Facebook

'Fab night and a great way to end the McTell year'
'What a fabulous set!'
'Sounds like a great evening was had by all!'
'It was a 'top' night, really enjoyed the singing'
'Wonderful set list, (my favourite WTS is in the list)'
'WOW that sounds like a monumental evening, hope everyone had a super night and raised loads for a great cause'
'It was a great friendly atmospheric gig and Ralph was on great form!'
'An iconic pub with an iconic performer'
'Wish I could have been there!'
'Great set list John, but don't think we had room for the massed choir on the Half Moon tiny stage!'
'All the moon's a stage!'
'What I enjoyed the most (after RM) was watching the enjoyment on the faces of Nanna and Tom May'
'I'm sticking Ralph's Half Moon gig on my bucket list!'


back to top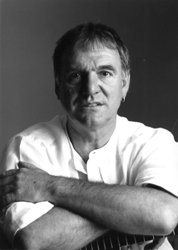 Ralph McTell and Wizz Jones
"About Time Too" - Album Launch
Cecil Sharp House, London
Wednesday 15 November 2017

Review and photograph by Mike Cohen with additional notes by John Beresford.

Review

A lovely evening with Ralph and Wizz. Possibly somewhat under-rehearsed but Ralph has been pretty busy! These two have telepathy and charisma. The evening flowed by. Their two guitars - Ralph's J45 and Wizz's Epiphone - combined with their very different playing styles, make them a formidable duo. The evening started with Doc Watson's Honey Baby Blues and ended very appropriately with Steve Ashley's Best Wishes. Sandwiched between were two sets with songs from both albums, some amusing anecdotes as well as a few solo songs from their extensive repertoires. Highlights for me were Ralph's beautiful rendition of Bob's Abandoned Love, RJ's When You've Got a Good Friend and his homage to RJ The Ghost of Robert Johnson. Stealin' was uplifting and it was great to hear him sing From Clare to Here - very appropriate for Camden Town. I bought my first steel string guitar from Kevin O'Flaherty who I worked with in Camden Town in 1973!

Wizz told how Bruce Springsteen opened his Berlin gig with a moderate version of his song When I Leave Berlin in 2012 - and failed to acknowledge him. We then heard how it should be played!

So thanks Ralph and Wizz - who knows, maybe we will be lucky to hear you again together next year?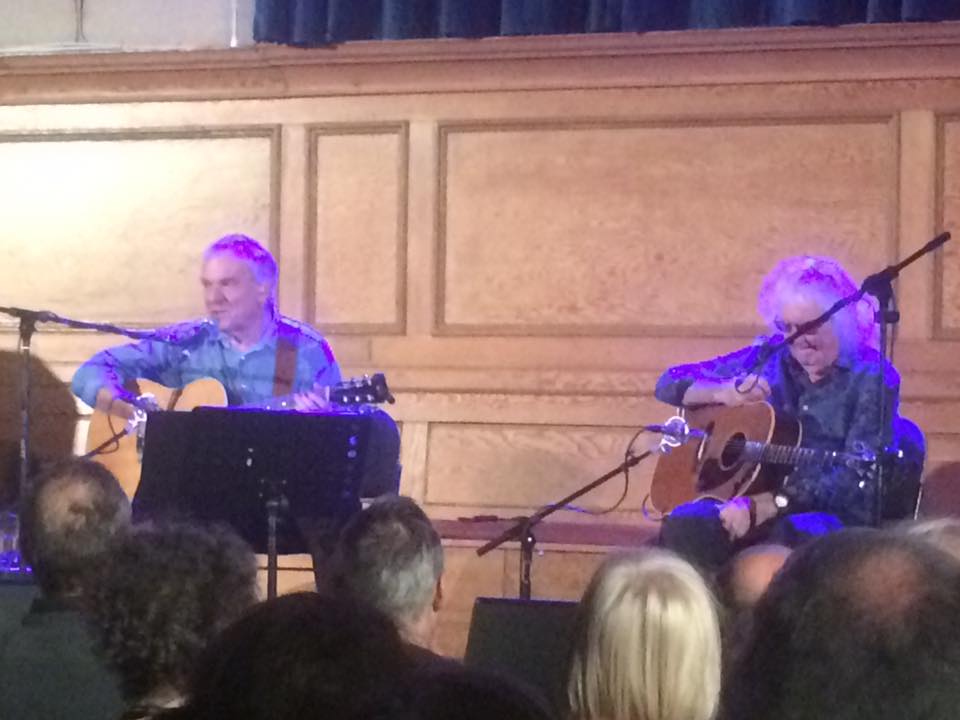 Songs sung


From "About Time Too"

Stealin'
Shall I wake you from your sleep?
Long black veil
How happy I am
Louise
Ghost riders in the sky
Touch has a memory
When you've got a good friend
Best wishes


From "About Time"

Honey babe blues
Deportees
Abandoned love


Bonus songs

American land
Do re mi
From Clare to here
The ghost of Robert Johnson
When I leave Berlin

Comments from Facebook

"I loved the relaxed attitude and funny patter, that's what made the evening! Superb playing and singing."
"Great relaxed evening with lots of humour."
"An enjoyable gig in pleasant company."
"I thought the informality was great! It was like listening to a home jamming session."


back to top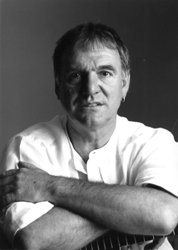 2017 Autumn Tour Set Lists
Jenny Melmoth
John Beresford
| | |
| --- | --- |
| Guildford, 13 October 2017. Ralph posted his set list on Twitter | Manchester, 14 October 2017. Billy May wrote the set list for the merchandise stall |
back to top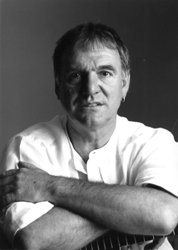 2016 Autumn Tour
Jenny Melmoth
John Beresford

Set lists from six of the 29 concerts on Ralph's tour of the UK and Ireland:
| | | | | | |
| --- | --- | --- | --- | --- | --- |
| Runcorn, 3 October 2016 | Leeds, 4 October 2016 | Glasgow, 8 October 2016 | Didcot, 3 November 2016 | Cardiff, 12 November 2016 | Swansea, 13 November 2016 |
| Walk into the morning (1) | Walk into the morning (1) | Walk into the morning (1) | Walk into the morning (1) | Walk into the morning (1) | Walk into the morning (1) |
| Nanna's song (1) | Nanna's song (1) | A feather fell (1) | Nanna's song (1) | Nanna's song (1) | Heron song (1) |
| In the dreamtime (1) | Barges (1) | First song (1) | Maginôt waltz (1) | Maginôt waltz (1) | Small voice calling (1) |
| Brighton Belle (2) | Peppers and tomatoes (1) | Barges (1) | Barges (1) | First song (1) | Peppers and tomatoes (1) |
| Diamond Joe (2) | First and last man (1) | Peppers and tomatoes (1) | Diamond Joe (2) | Summer girls (1) | Barges (1) |
| Barges (1) | Brighton Belle (2) | First and last man (1) | Hesitation blues (1) | Wonderful country (3) | From Clare to here (1) |
| Let me fly or let me fall (3) | Diamond Joe (2) | Diamond Joe (2) | Nettle wine (1) | Sylvia (3) | Summer girls (1) |
| Naomi (3) | Hesitation blues (1) | Hesitation blues (1) | Reverend thunder (1) | Naomi (3) | Wonderful country (3) |
| Hesitation blues (1) | That'll do Babe (1) | Guitar shuffle (1) | The setting (4) | That'll do Babe (1) | Old brown dog (3) |
| Guitar shuffle (1) | Factory girl (1) | Still in dreams (1) | First song (1) | Reverend thunder (1) | That'll do Babe (1) |
| Still in dreams (1) | The setting (4) | The setting (4) | Peppers and tomatoes (1) | The setting (4) | The setting (4) |
| The setting (4) | Streets of London (1) | The girl on the Jersey ferry (1) | The ferryman (1) | Sand in your shoes (4) | Sand in your shoes (4) |
| Around the wild Cape Horn (1) | The girl on the Jersey ferry (1) | Streets of London (1) | Streets of London (1) | Streets of London (1) | Easter lilies (1) |
| When they were young (1) | Saucers (1) | Summer lightning (1) | Summer lightning (1) | The girl from the hiring fair (1) | Streets of London (1) |
| Streets of London (1) | Grande affaire (1) | Around the wild Cape Horn (1) | First and last man (1) | Lost boys (1) | Michael in the garden(1) |
| First song (1) | Around the wild Cape Horn (1) | West 4th Street and Jones (1) | Around the wild Cape Horn (1) | Around the wild Cape Horn (1) | Maginôt waltz (1) |
| Summer girls (1) | | | Terminus(1) | Grande affaire (1) | Lost boys (1) |
| West 4th Street and Jones (1) | | | | West 4th Street and Jones (1) | Naomi (3) |
| | | | | The unknown soldier (5) | The unknown soldier (5) |

Instruments played: (1) 'Miss' Gibson J45 - (2) Tom Mates 12 string - (3) Piano - (4) Martin RM50 - (5) CD played over PA

back to top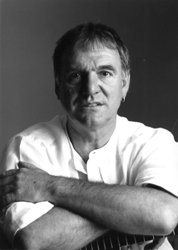 Cashel Arts Festival, Brú Ború Cultural Centre, Cashel, Co Tipperary
Saturday 17 September 2016
Ken Woolass
Punctum, or A Trip to the Tipp

I think I have nearly come down from the almighty high I got on this trip. I believe all trips are uplifting, soul enhancing, but this was truly exceptional. I wrote the following just to give a flavour. It was only 24 hours, but, as with so many trips, a journey of complete delight. Each and every person, place and event mentioned deserves a story of their own.

To start at the beginning would be months previous. What had brought me to this point, at this hour? I believe it could have been the overall cost. As ever, a tour is announced and I check all possibilities, then proceed to cut the cloth according to my means, and continue the process until the very last moment, certainly appreciating the possibility of cancelling accommodation, which is invariably the first thing to be booked, along with rail travel, always cheaper if booked well in advance.

But flights? Whatever, I find myself at the airport at 5:30am, having brought forward my taxi due to an inability to sleep! Desperate as a child may be, clothes ready, trying not to be too excited, but none the less full to the brim with eager anticipation. Everyone I had been in contact with - online booking Emily, Gillian, Patrick when I booked my accommodation - had been an absolute pleasure to deal with - Bus Éireann and Ronan and team, Brú Ború as well.

Through baggage check, straight through duty free for sure. Decided breakfast could be good, and proved wrong! Route march to gate - did they really think I was walking there? I certainly did. Onto plane pure pleasure, priority boarding, in retrospect priority disembark may have been better!

Ah the joy as the ground disappears and the sun above the clouds, occasional glimpses of the earth below, then the wake of boats, ships, as we approach over Dublin port. Touchdown and another (for me exhausting) route march, through passport check and into fresh air and sunshine.

Bus stops: on inquiry, the X8 to Cashel was pointed out just passing by. Another two hours relaxing, people watching, with a coffee and toast. To bus alighted, settled in first seat, and on departure eventually entered the Dublin Tunnel which eventually opened out into Dublin Port. This I felt was a bonus, as I had thought the bus went straight from airport to Cashel.

Beresford's Hotel and into bus station, driver change, and out to run beside the Liffey, Ha'penny Bridge adorned with banner 'Up the Dubs'. My immediate thought was Jamie, who calls me 'Dubs', which relates to his poor taste in music! It relates to my name too, or rather initials K.W., hence K Dubs or Dubstar.

I have no idea what I had expected the scenery to be. But apart from the view of mountains it was quite similar to home; well, as viewed from a motorway! My attention was taken as much by the driver as the views, obviously not one of his better days - I did fear which would go first, the battery or the man himself.

The excitement mounted as we approached Cashel. Despite all research, I found The Rock and the buildings atop, awe inspiring. Alighting and gathering my bearings, I was treated to a surprise greeting directed at a fellow traveller. "Are you here long, when do you go back?" For me, priceless. Made my way to the Rockville, passing the Cashel Folk village, I wanted to say a quick hello to Bernard, another addition to the people who impressed when checking out the place from home, and to Patrick. No one at the front, I left my bag and went to the back. I found Patrick hanging out washing! He immediately pointed me toward the stables, "We'll put you in there". Once the room and area were pointed out I was told "Settle yourself and I will bring you a coffee." Dumped bags, shoes off, and relax. Patrick returned with coffee and biscuits, an explanation of the keys and an all too brief chat and left to myself. I thought to explore the Brú Ború and possibly collect tickets. Coffee and biscuits consumed, I took back the tray. Invited in, I was introduced to Anna, Patrick's elderly mom. I realized she had suffered a stroke, kissed the proffered hand, and allowed time for her laboured speech. Oh joy!

Made my way to Brú Ború via a brief walk alongside the Rock, along a lane, and there beside the car park was a well laid out garden with the buildings within; as most were underground, there was hardly an intrusion. There is in the layout an open air performance area; it was the reception that stood between the restaurant and the bar area - and what I discovered was the theatre. The delightful Helen explained that the tickets would be available later and aided by someone whose name I forget (another delight) provided both coffee and a seat! I was asked what I thought: I couldn't really answer, as even the thought gave my eyes a rinsing. I was truly overwhelmed by now. What could I call it? Humanity.

I returned to my 'palace' to shower and change. Hoping I resembled respectability I returned to Brú Ború where I could hear the sound check. I collected the ticket, arranged with Ronan to obtain a poster and to retain my ticket - it will be added to all the other collected memorabilia. I had a pint in the bar, the garden area and sculptures now illuminated, as was the overlooking Rock of Cashel. Rarely have I felt so 'at one' with the world. And a concert to come.

After entering and taking my seat, of my own choice, I was fortunate to have Mary Galvin sit beside me, from Wexford. She had seen the man before, and was hoping there would be merchandise. The place filled up and eventually we were welcomed and Ralph was invited on stage. In no time we were treated to the magic of McTell, lulled into thinking he was playing to each one in his own zone - I do not exaggerate. A superb evening, even the dry ice, enveloping at times, was treated with good humour, but must have been choking! An evening that passed all too quickly. On exit there were plenty waiting for the man to join as promised. As ever, the merchandise was (in my view) a missed opportunity. Just two CDs and no one available to buy them from! In the shortest time I have ever experienced, we were joined by Ralph. Once he had made it to his signing spot, the CDs were available via Josh who did a stirling job of selling, attempting to get some order, and unwrapping CDs in order for them to be signed. I exchanged details with Mary, obtained my ticket, or a ticket, and happy I returned to the palace! I dropped my poster and ticket etc and went into town, eventually turning up at Baileys Cellar Bar (memories of Paris?). After some brief conversation with one of my favourite people, the conversation and liquid flowed, almost to the point of embarrassment! I was treated to the joy of social intercourse at its best, truth to tell anyone who knows me, or thinks they do, would have difficulty accepting that most of the pleasure came from listening. Indeed it was a comment about a collar (referring to a dog collar?) that brought my evening to an end. I was reminded of my father making the same comment! What an excellent way to finish any evening, in fine company, with fine people brought to mind! Of course to the others present my departure may have been abrupt, but surely better than a grown man bursting into tears for what (to them) would appear to be no reason.


Ralph sang:
Walk Into the Morning
Mr Connaughton
Rev Thunder
After Rain
Hands of Joseph
First and Last Man
The Girl on the Jersey Ferry
Michael in the Garden
Streets of London
GPO **
A. N. Other(s)?
From Clare to Here
Around the Wild Cape Horn

** Ralph's performance of 'GPO' for RTE is on You Tube


Sunday 18 September 2016

Woke early, some fun with a kid in the street practicing hurling. I know next to nothing about hurling! It didn't stop the (little) man popping into the road to play whenever anyone walked past. In for breakfast, the indefatigable Patrick on the go permanently, ably assisted by (apologies for forgetting the name; the person will never be forgotten.) Suitably fed and watered I left for the brief walk into town, watched as the stalls and entertainment was set up. Called at the Tourist Information (for a bus timetable), was drawn in to the pop up studio, part of the festival, but difficult to comprehend despite the efforts of Gavin or indeed the chap assisting. However, listening to Pat Murphy and the wonderful Willy being interviewed prior to their portraits being taken, was worth the trip alone. The all too brief chat I had with Willy was cut short as the bus was due for their return to the City for THE FINAL. The bus was held, and I was treated to the sight of Willy, gentleman that he is, apologizing to all.

Astonished to be included in the obscure (to me) project, my embarrassed interview and portrait taken, I left to experience the Plaza and its entertainment, in the rain. Excellent guy on a guitar giving his all to the assembled three, a brass band for whom I really needed a dance partner to truly enjoy! But enjoy them I certainly did, as indeed did a young guy, I think vaguely attached to the girl guides selling cakes, who did a great version of Bruce Springsteen, going into interpreting the music, including circling the lamppost close by. Pure joie de vivre, bless him.

That to me is a brief report of an incredible trip. I haven't mentioned a sand sculpture, I didn't get to visit the Rock, I didn't taste the Guinness. I would point out the Rock has been there before the Guinness, and will remain, giving me every reason to return! I would wish the organizers ALL they wish themselves. What could improve the experience for me? Possibly more local involvement… but overall I would point out that the greatest asset are the people of Cashel themselves.



back to top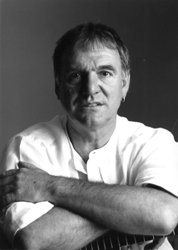 Fairport's Cropredy Convention
Saturday 13 August 2016
John Beresford
I had missed Ralph's solo Cropredy sets in 1999 and 2009 due to family holidays, so I got this one in the diary as soon as it was announced. Backed by Dave Pegg, Danny Thompson, Chris Leslie, Ric Sanders and Graham Preskett in various combinations, Ralph produced a lovely set that we at the front sang along to on a beautiful evening.




"The dreams I have are red and gold..."
The perfectly timed Cropredy sunset captured by Colin Edwards

Ralph sang:
Walk into the morning
First song
Saucers **
Barges
Run Johnny run
Red and gold
The girl on the Jersey ferry
From Clare to here
Around the wild Cape Horn
Streets of London
Peppers and tomatoes
The ghost of Robert Johnson
West 4th Street & Jones

** Dedicated to Ralph's Mum, who would have been 100 today

back to top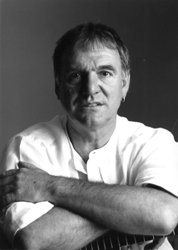 St George's Festival, Beckenham
Friday 24 June 2016
Ken Woolass
The set list:
Walk into the morning
Nanna's song
Reverend Thunder
Summer girls
Jesse's rag (first performance?)
Barges
England*
The London apprentice
First song
Diamond Joe
The ghost of Robert Johnson
Naomi*
Streets of London
Grande affaire
Around the wild Cape Horn
Zimmerman blues
West 4th Street and Jones

(Guitar except *piano)
back to top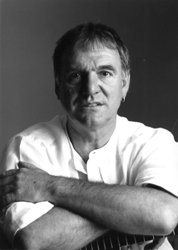 Wirral Folk Festival, Ellesmere Port
Friday 3rd June 2016
Carl and Naomi Squire
Our tickets said '6:00'. Being a festival, and knowing that Ralph was (naturally!) to be the highlight of the day's schedule, we knew that there would be plenty of time before he actually appeared. We arrived a little after 6:30, and found a timetable which revealed that, in fact, he wasn't due to take the stage until 9.15pm! As there were no performances at all underway when we arrived we decided to take a walk around the site. We were making our way back around the outside of the main building when a sudden sound brought us to a dead stop. From an open door in the backstage area came the sound of just a couple of bars on a harmonica. I'd never realised before that it would be possible to identify someone just from their harmonica playing, but we had no doubt it was Ralph. We listened for a few more minutes as he ran through verses of a couple of the songs he would be playing later – presumably a sound check. Knowing that Ralph has said that he doesn't like people listening in when he's preparing, and feeling a little intrusive therefore (though the member of staff sitting by the door didn't seem to mind us listening) we decided to move on. A rare treat to hear even that much though!

Before Ralph appeared we were treated to a set by Becky Mills, Yorkshire-based singer songwriter. She has an excellent voice and is a gifted songwriter. The only downside was that practically all her songs followed traditional folk-themes of death, broken hearts, unrequited love and general woe – so not the most cheerful of experiences!

Finally the moment came – and there he stood. I expected him to launch straight into an opening number, as usual, but instead he paused to explain that he always feels that he should take time to talk more about the background to his songs at folk festivals. Though I'd understood the reason for it, I'd missed Ralph's usual chat at the RAH, so this was definitely good news!

All songs were played on a Gibson (I think J45) but not Miss Gibson.

He began with Walk into the Morning, with the usual gob-iron accompaniment. This was followed by a brief description of how 'The Boy with a Note' came to be written and Summer Girls. A treat these days to hear anything from that album live, so we were delighted.

Next, Ralph began to talk about the ongoing centenary of WW1 and his Great Uncles' experiences. As always at these gigs I find myself playing a sort of mental 'name that tune' – seeing how quickly I can work out which song is coming next. On this occasion as Ralph spoke about WW1 I dithered between 'Canopus' and 'Lost Boys' – both wrong in the end as it was Maginot Waltz! Such a perfect song I always think – encapsulating the period and the wartime mood so wonderfully.

It was easier to guess the next one – A Feather Fell - as both Brussels and Derroll Adams were mentioned quite early on. As far as I can remember, there was no introduction to the next song, but it's one I always love to hear – First Song.

A complete change of mood for the next song, one of Ralph's most powerful pieces, Peppers and Tomatoes. The friend who accompanied us has been to a few Ralph gigs before but had never heard this song. He said afterwards that he'd found it very moving – goes for the rest of us too I think!

The first time we ever heard Ralph live – 25 years ago - I can clearly remember that though I enjoyed the experience from the beginning, there was one number that captivated me and turned me in to a Ralph-ite for life. From the intricacy and beauty of the first few instrumental bars I was hooked, even before hearing the evocative lyrics. It's therefore naturally a favourite to hear live, so I was thrilled to hear the first few unmistakeable chords of Barges next. As Ralph said it's a good job he didn't know they were really 'narrow boats' or the words wouldn't fit.

Ralph is always good at balancing and mixing set lists, so I wasn't surprised when he switched to something very different in theme and tempo next, a song about one of his blind, black, dead heroes – Reverend Thunder . It was preceded by the story of the 'blind man with a gun' inadvertently pointing it at his hosts one day, with no obvious concern because 'the Lord will guide my hand'.

With the introduction to the next song came also an introduction to a new word, one that Ralph said his daughter taught him – petrichor - defined as the smell of earth After Rain. A good word, but not sure how it would fit the tune.

Grande Affaire followed without introduction.

His meeting with a young woman, Jo Connaughton was the inspiration for Mr Connaughton, a rare song which wrote itself as the memories flooded back. The song was also played at Kevin Connaughton's funeral.

Ralph explained that he always feels a bit of a fraud coming to folk festivals because he doesn't really do folk songs but he was delighted to pick up a book of Irish songs and find From Clare to Here listed as 'Trad'. Is there a greater compliment?

Another attempt at folk – but one where boy meets girl and she doesn't fall in the stream and drown and boy doesn't hang himself - introduced The Girl from the Hiring Fair. This was written for Fairport Convention and Ralph had just learned that Dave Swarbrick had died earlier that day. This was news to many of us there and a groan came from the hall. Ralph said he couldn't bring himself to sing the song he wrote with Swarb (White Dress).

We were invited to sing along to 'the hit', Streets of London, and then followed the B side, Summer Lightning.

With all this chat Ralph had been on stage for almost 2 hours as he went into his last for the night, The Ghost of Robert Johnson, before his encore: Around the Wild Cape Horn - we were expecting this because we'd heard it during the sound check earlier that afternoon.

Ralph came out for meet and greet and we got our Albert Hall programme signed. So all told 2 hours on stage and probably a further 40 minutes greeting us. Not bad for a man who'd flown 16 hours back from Japan the day before.

As always it was wonderful. Yes, we know all the songs and nearly all the introductions but we can never ever get bored. Thanks once again Ralph.


back to top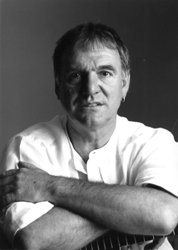 Loyal Command Performance, Royal Albert Hall, London
Thursday 12 May 2016
John Beresford
Ralph McTell's concert audiences have for many years been characterized as largely comprising people 'of a certain age', an epithet that suggests an enduring fan base of folk who have followed McTell since the 1970s. It should therefore not have come as a surprise that, when asked to nominate songs for this concert's set list, the majority chose songs from those early days: 16 of the 'top 20' were 40 years old or more, two were from 30 years ago, with the newest of the people's choices having been premiered at McTell's 60th birthday concert as 'recently' as 2004.

This is not to say the people chose badly. On the contrary, their selections made a wonderful set, which McTell delivered with all the clarity and charm that has kept his audiences coming back for more over the decades. Despite having sung them so often, he treated each one as though it were freshly wrought, revealing nuances of meaning and melody that were probably not in his original intention.

The quality of McTell's early albums is emphasised by the titles that did not make this cut. There were three songs from You Well-Meaning, but no 'Old Brown Dog'; four from Not Till Tomorrow but no 'Birdman' or 'Gypsy'; three from Easy but no room for 'Maddy Dances' or 'Run Johnny Run'. Nevertheless much of what we did get was sublime – exemplary performances of 'Michael in the Garden', 'The Ferryman' and 'First Song'; and McTell's own choice of encore, 'West 4th Street and Jones', a 'new' song that will be high on my list when next he invites the faithful to choose the songs.

Another aspect of being 'of a certain age' and having followed McTell since the 1970s (in my case since 1969), is the friendships that develop with like-minded folk whom one meets at the concerts, sometimes by arrangement but often by chance. On this occasion I met Ruth off the tube and Lesley, John and Chris in the pub, along with Bjorn from Norway and his three friends, and two Burnley fans from Scunthorpe. Then Mags and Linda on the way into the Hall, where Ken and Maggie were in the corridor. On the way out I met Carl and Naomi with Jenny and Diane, then Tony and Margot, and finally Karen who was looking for friends outside when everyone else seemed to have gone. My thanks to you all for your friendships - and most of all to Ralph for making them possible.

The set list (with the song's position in the public vote in brackets *) - all played on 'Miss Gibson' J45 guitar unless stated:

1. Maginot Waltz (#17)
2. Nanna's song (#16)
3. Nettle Wine (#13) Played on Ralph's new Martin RM50 guitar
4. Michael in the garden (#11)
5. Tequilla Sunset (#15)
6. Barges (#3)
7. First and Last Man (#10)
8. First Song (#2)
9. In the Dreamtime (#22)
10. Naomi (#5) Played on Ralph's own grand piano
Interval
11. Zimmerman Blues (#14)
12. The Ferryman (#8)
13. Mr Connaughton (#12)
14. Let Me Down Easy (#4)
15. You Well-Meaning Brought Me Here (#18) Played on Ralph's own grand piano
16. The Girl From the Hiring Fair (#7)
17. Streets of London (#6)
18. Summer Lightning (#9) Played on Ralph's new Martin RM50 guitar
19. Around the Wild Cape Horn (#19)
20. From Clare to Here (#1)
Encore West 4th Street and Jones

* See Ralph's Loyal Command Performance Top 50
back to top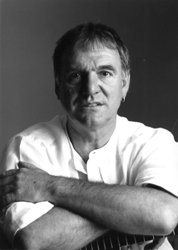 The Floral Pavilion, New Brighton
Friday 20th November 2015
Carl and Naomi Squire
This was the second time we'd seen Ralph performing at the Floral Pavilion, but this time he was in the main theatre rather than the Blue Lounge, so we had the benefits of a proper stage and raked seating so those of us under six feet had the benefit of being able to both see and hear him!

The stage was illuminated with blue, white and red lighting, presumably in recognition of the awful events in Paris. We saw Ralph about two week previously at the Lowry where there were only three guitars on stage, one of which was a 12-string. This time we were delighted to see that in addition there was also a grand piano centre stage. We agreed (as did another long-term Ralph-fan) afterwards that, at least partly as a result of this, we enjoyed the set more than we had the one at the Lowry.

Just a couple of minutes after the advertised start time, the auditorium lights dimmed and Ralph entered to tumultuous applause cradling Miss Gibson. Having bid us 'Good Evening' and thanked us for our applause he launched into Walk into the Morning, accompanied on the harmonica, explaining briefly that it was a young-man's song written specifically to open the show . The London Apprentice came next – no introduction or comment on this one, but I was pleased to hear it anyway!

The next two were played on the 12-string, with the usual resulting wonderfully rich sound. Ralph then explained that a 12-string guitar is always tuned a little lower than a 6-string allowing him to sing a song that he'd always wanted to perform - Diamond Joe – which is about a cowboy mistreated by the ranch Owner. Canopus came next, preceded by a brief introduction about Ralph's fascination with the First World War and what he'd learnt from his grandfather and his uncles about their wartime experiences. Then Hands of Joseph / Great Dreams of Heaven - an excellent example of Ralph's virtuoso skill on the guitar – stunning!

Moving to the piano, without introduction Ralph sang Old Brown Dog, much to our delight as it's years since we've heard it live. This was followed by England. Ralph explained about how it was intended to be a song that any English person of any background could sing, and how he'd originally released it just before the Falkland War broke out and then withdrawn it from sale as he wanted to play no part in anything jingoistic.

Back to the 6-string for You Make Me Feel Good – a tribute to his daughter who does what it says on the tin! This was dedicated to all dads of daughters in the audience. There was an additional bit at the end that we'd never heard before this tour – and it's not in 'Time's Poems' either. He said that he hasn't played it live before this tour and that he doesn't think Leah – the said daughter – is aware that he's playing it now. (Though I bet one of her two younger brothers who are accompanying Ralph on this tour will have told her!) Then Gypsy - no introduction again. We think this was the only song played on the other 6-string (ie not Miss Gibson) but aren't positive. Followed by First Song – said to be a song in part about how some things stay the same despite the passage of time.

We'd been having a fantastic evening up to that point, but things were about to get even better with three of our favourite ever songs one after the other. After Rain – a fantastic rendition, beautifully sung and played. It was introduced by memories of summer rain storms in Croydon, and the change of the smell in the air after the rain has washed the dust away. He spoke about how this was a metaphor for tears after difficult experiences allowing us to begin to move on and be refreshed. At the end of the song, almost in a whisper, he dedicated it to Paris. I love this song – it has encouraged me through some very painful experiences so such a fantastic live performance would have made the evening special for me just on its own but it was about to get even better as Ralph, returning to the piano, played one of Carl's all time favourites Let Me Fly or Let Me Fall. Better still was that the next song was one that, for obvious reasons, is, and always has been special to us – Naomi. This was the last song on the piano, and was accompanied by the usual description of visits with his family to see his elderly relatives, and their ability after such a long time together to understand each other's thoughts without the need to speak them aloud.

Back to Miss Gibson for When They Were Young – no comments on this one. Next was a song that Ralph said he's occasionally forgotten until right at the end of a show – 'my hit'. Ralph explained that he doesn't like to finish his sets with Streets of London lest anyone think it is the pinnacle of his song writing career – which, as he said, and as we agree, it isn't. (Good though it is!). He told the story of the error in the sheet music for this song, and 'ow the publishers assumed that coming from Croydon 'e would drop 'is 'aitches – but that the chap didn't 'have 'is 'and 'eld loosely at 'is side – I never get sick of 'earing 'im tell that one! After that he said that he was going to play the B side to the hit 'just because I feel like it!' so we were treated to another old favourite Summer Lightning.

The Girl on the Jersey Ferry next – another song Ralph said was about time and how single memories can stay with you a lifetime. Having thanked us for coming out on a cold and stormy evening (as we'd arrived waves were crashing into the sea wall and splashing into the car park, and we were snowed on on the way home), Ralph closed the main set with The Ghost of Robert Johnson.

After a brief interval hiding in the wings as the ovation went on Ralph returned for his encore. Ralph has been closing this tour with an as yet unrecorded new song. Inspired by a photo of Bob Dylan and his girlfriend, Suze Rotolo, walking in the light dusting of snow in New York on West 4th Street and Jones.

We were with a friend seeing Ralph for the first time. His comment was "I didn't realise he was such a talented musician. He's his own bass, rhythm and melody section – how does he do that? And on a 12 string!!"

Thank you Mr McTell for making time fly once again.


back to top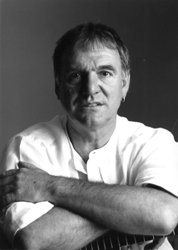 The Gulbenkian, Canterbury
Monday 16th November 2015
Anna Dance
I went to see Ralph on Monday 16th November at the Gulbenkian University of Kent. My friend treated me as a Birthday and Christmas present. My birthday is on 31st October - Halloween. Don't laugh. I will be celebrating my 70th in 2017.

It was wonderful to see Ralph in person on Stage. The seats we had were very close to the Stage. I loved the way he chatted to the audience and telling them a little about his personal life and of the many other talented Musicians he had played with. Absolutely wonderful. I had bought his DVD celebrating his 70th birthday with a Concert at The Theatre Royal, Drury Lane before the Show. After the Show my friend and I queued up to meet him and he was an absolute Sweetheart. Very charming and down to earth. He signed my DVD and my friend took a couple of photos of me with him and I took one of her with him. We had a quick chat and he came across as just a real Gentleman. Someone you could stand and chat to and feel very relaxed in his company. No Airs and Graces.

I mentioned to him that I had an LP from his early years on Television. I used to sit with my daughter Lyndsey when she was about 3 years old and watch "Tickle on the Tum" and "Alphabet Zoo". The LP I have is "Tickle on the Tum" and I had hoped to take it with me and ask him if he would sign it. I know I have it somewhere but could I find it when I really needed it. NO. I searched everywhere and my Grandchildren came over and went into the loft to look for it. Hopefully I will come across it at some point. At least I got a DVD signed by Ralph and of course I have the photos to look back on the amazing evening.

Hopefully I will go and see him again in Concert one day. It was a wonderful experience to see him perform on Stage.


back to top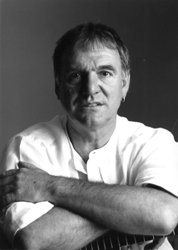 The Sheldonian, Oxford
Thursday 29 October 2015
John Beresford

The year's big news is that Ralph will play at the Royal Albert Hall next May, and I was still full of excitement at the prospect of seeing Ralph in his favourite venue when this year's autumn tour dates were announced. Second on the list was an even more impressive venue - Christopher Wren's 350-year old Sheldonian Theatre in Oxford. My previous visits to this magnificent building had been notable for the university gaduation ceremonies being largely in Latin - and for the solid wood bench seats. Recent restoration work has brought the painted ceiling back to life, relaid the oak floor - and cushioned the bench seats. With its excellent acoustics and a varied set from Ralph's long career, the Sheldonian delivered a concert that sets the standard for the Albert Hall next year.

Jenny Melmoth

All five concerts I have attended on Ralph's 2015 Autumn Tour were, of course, good, but the last two were superb. It was a real treat to have the piano at New Brighton and to hear 'Old Brown Dog', 'Naomi' and the rarely performed 'Let me Fly or Let Me Fall' which I find worthy of being a French 'chanson '. 'England' had an extra resonance in the light of current events and one could sense the emotion felt in the audience.
| | | | | |
| --- | --- | --- | --- | --- |
| Oxford, 29 Oct 2015 | Salford, 7 Nov 2015 | Morecambe, 13 Nov 2015 | Huddersfield, 14 Nov 2015 | New Brighton, 20 Nov 2015 |
| Walk into the Morning | Walk into the Morning | Walk into the Morning | Walk into the Morning | Walk into the Morning |
| A Feather Fell | A Feather Fell | The London Apprentice | The London Apprentice | The London Apprentice |
| Diamond Joe | First Song | Diamond Joe | Diamond Joe | Diamond Joe |
| Canopus | Diamond Joe | Canopus | Canopus | Canopus |
| First Song | Canopus | Lost Boys | Barges | Hands of Joseph |
| The London Apprentice | Lost Boys | Barges | Peppers and Tomatoes | Old Brown Dog |
| Hands of Joseph | Barges | Mr Connaughton | When They Were Young | England |
| You Make Me Feel Good | When They Were Young | When They Were Young | You Make Me Feel Good | You Make Me Feel Good |
| Peppers and Tomatoes | You Make Me Feel Good | You Make Me Feel Good | Gypsy | Gypsy |
| When They Were Young | Red Sky at Night | Heron Song | Red Sky at Night | First Song |
| Streets of London | A Kiss in the Rain | Hands of Joseph | Nettle Wine | After Rain |
| The Girl on the Jersey Ferry | Streets of London | Streets of London | In the Dreamtime | Let Me Fly or Let Me Fall |
| First and Last Man | The Girl on the Jersey Ferry | Summer Lightning | Streets of London | Naomi |
| Grande Affaire | Grande Affaire | Round the Wild Cape Horn | Grande Affaire | When They Were Young |
| West 4th Street and Jones | The Ghost of Robert Johnson | West 4th Street and Jones | The Ghost of Robert Johnson | Streets of London |
| | West 4th Street and Jones | | West 4th Street and Jones | Summer Lightning |
| | | | | The Girl on the Jersey ferry |
| | | | | The Ghost of Robert Johnson |
| | | | | West 4th Street and Jones |
back to top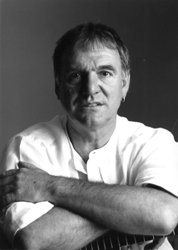 John Williams with Ralph McTell at the Sam Wanamaker Playhouse
Friday 5th June 2015
Jenny Melmoth Five Stars for a Triple Starred Evening

Ever since seeing the televised production of The Duchess of Malfi from the then newly opened Sam Wanamaker Playhouse at the Globe Theatre in January 2014 I had wanted to attend a performance there. Thanks to the Facebook 'Ralph McTell Appreciation' site, news was picked up of the John Williams/Ralph McTell concert of 5th June in time to purchase the last two tickets. They were standing singles, but I could see my husband across the tiny auditorium and we were so enthralled that we scarcely noticed the standing.

Candlelit and with no amplification, this enchanting little space has to be one of the brightest jewels in the crown of London's theatre land. Add to this the luscious, skilled tones of John Williams' guitar and then the McTell magic and you have the recipe for a never-to-be forgotten evening - all for £10! True our sight-lines were not brilliant, but the warm welcome of the staff and the overall atmosphere of the place more than compensated.

Perhaps because of the intimacy and the horseshoe shape of the theatre, audience reaction appeared magnified. Certainly I have never experienced an audience who reacted so well not only to the humour in the intros, but to that within the songs themselves, as if they were following every word. It must have been so rewarding for Ralph to have this level of response.

Since he was 'guesting', we had quite expected that Ralph might only play four to five songs, but the evening's format proved very different: John Williams opened the concert and played for about 45 minutes, the intimacy of the theatre enhancing the mellifluous tones of his guitar - gentle pieces, sounding deceptively easy under the hands of such a maestro. He promised us Ralph McTell 'later' but we still did not know the exact format till Ralph came on (with no introduction) after the interval and took us through a programme of carefully chosen songs, all greatly appreciated by his audience.

Playlist
1 The London Apprentice 2 Summer Girls 3 Maginot Waltz 4 After Rain
5 Little Actress 6 Peppers and Tomatoes 7 F I N 8 Mr Connaughton
9 The Ghost of Robert Johnson 10 From Clare to Here 11 The Girl on the Jersey Ferry
12 West 4th Street and Jones 13 Around the Wild Cape Horn
Encore Streets of London - duet with John Williams

It must have been daunting for Ralph to be performing acoustically after so many years of support from excellent sound engineers, and also to be playing to an audience many of whom might possibly be there more for John Williams than for him; enough to have made anyone nervous, but you would hardly have known and it was a thrill to hear him perform acoustically. The first few songs were all gentle ones but it was a good move to play Maginot Waltz as a hint of darker things to come, and then a brave decision to play Peppers and Tomatoes, surely one of Ralph's finest songs and one I still find both moving and chilling. Having laughed at the 'Grow Bag' info on its origins, the audience were maybe ready for more humour, but ultimately responded enthusiastically to the unfolding drama of the story with its sudden, grim ending, as frightening as Schubert's Erlkönig.

The sophistication of F I N went down well, as did the two 'Irish songs' each with their London connections and relevance to a younger Ralph McTell, while the bluesy Ghost of Robert Johnson gave spicy variety and took us across the Pond, where we found The Girl on the Jersey Ferry and then his Bobness in West 4th Street and Jones. Here, the harmonica is always an added treat. The set closed with Around the Wild Cape Horn, such a great song but also very fitting in that the narrator is an old man looking back on his younger self. When Ralph plays some of the early songs it must be a bit like that, though of course (to misquote the Bard) 'age cannot wither . . . nor custom stale his infinite musicianship'. This proven perhaps with the encore, when the audience were moved to sing Streets of London as well as I have ever heard an audience sing-along - to a peerless rendition by Ralph and his friend the virtuoso John Williams.

A memorable evening and a privilege to be there.


back to top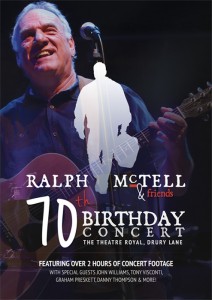 Ralph Mctell Live at The Theatre Royal Drury Lane
Sunday 7 December 2014
Robin Hunt Yer Tiz

The Theatre Royal is a lovely Olde World Venue. The tickets were worth every penny; the sound was good and the lighting. The stage set was very restrained, with a large back projected silhouette of "The Travelling Man" himself dead centre of the stage, and loads of blue lighting, a personnel favourite.

The evening was introduced by Rory McGrath, a man I like, very personable, erudite and funny with it. Having promised us to keep it short and sweet he did, after a while, start to waffle and go off down memory lane somewhat. But it was interesting to know the area of Kernow he resides. I did not know that the Cottage Folk Club was in Mitchell - driven past that area so many times over the years. Also worthy of note was the fact he likes "Barges": a man after my own heart. Not only that, Rory was the only bloke or lady who, on the night, got a request played for him - "Barges", I do believe.

Anyway, we eventually got there; enter stage left the man himself, with his usual beaming smile lighting the auditorium. Cheers Whistles and Applause! First observation, I instantly sensed how relaxed Ralph was. The set being recorded for what we all hope will be another DVD, Ralph announced he was going to keep the chat to a minimum between songs and he kept true to his word throughout.

Well the set got underway and as it progressed more and more friends joined him on stage; he was at pains to stress these are all people who are his friends and he have worked with some for many years. The evening was very much about Ralph celebrating his 70th birthday and doing exactly what he wanted, surrounded by his friends. The lighting got more sophisticated as the evening progressed and marked the changes of personnel on stage as the band swelled to full house.

Nanna's Song (1968) (from the album "Eight Frames a Second")

So first up we had Ralph solo with "Nanna's Song". Me thinks she may only sing in the kitchen when Ralph is not using it as a studio! Anyway what's not to like about this song? As I am writing this it's about one o'clock in the morning and I am listening to about 10 versions and I must say Ralph is very consistent.

Zig Zag Line (1974) (from the album "Easy")

We progressed onto Ralph and Nanna's son. "Zig Zag Line" always reminds of the zig zag path in Portreath, Kernow, nothing to do with this song as such, as far as I know, but it's the thing that draws me in, to listen closer to exactly what it's like, watching love grow, the imagery is so succinct, I am not even a parent and I can feel those emotions, and in my mind's eye I can see them fooling about on the hill in the distance.

Danny Thompson joined Ralph at this point for:

When I Was a Cowboy (1972) (from the album "Not Till Tomorrow")

Next we took a time portal back to what I have always assumed is Ralph's childhood back in the alley when he was a cowboy. We have all been there. I just love the bit where his mum - oops! I mean the sheriff - tells him to screw his hat down real tight in case you get in a fight. Who cares if some of that is not true, the important thing is to stay in contact with your past, just don't live in it!

Graham Preskett was introduced next for one of many favourite Ralph compositions:

In the Dreamtime (2000) (appeared on the album "Red Sky")

This song was used in Billy Connolly's World Tour of Australia series. I too baulk a little at Billy's language occasionally, but you have to think outside the box with Billy, he has a very good insight into "The World where we live", in my opinion. Ralph is so good at rising to the lyrical challenge of Billy's perambulations on life, a good team.

Run Johnny Run (1974) (from the album "Easy")

Never heard Ralph sing this before, nice song, technically good, but alas not one I would have chosen. But when I realise that Bert Jansch played on the original studio version, I see why it was included.

Tequila Sunset (1976) (from the album "Right Side Up")

I like this, the idea that when your life goes slightly pear shaped, head for your local bar, could be in Tijuana, who knows, but whatever you do, don't tell me your sad story and I certainly will not tell you mine.

When They Were Young

(2007) (A relatively new song from "As Far As I Can Tell")

This follows on very neatly from Tequila Sunset. A beautifully crafted song that must reach out to many people, whatever their circumstance.

River Rising Moon High (1976) (from the album "Right Side Up")

One of many Ralph love songs. I can picture Ralph standing on the towpath looking out across the river and thinking how lucky I am to love and be loved, on more than one level.

Sweet Mystery (1974) (from the album "Easy")

Ralph has honed and polished this song over the years and many a young man knows only too well what it's like fishing in the sea of love. Such experiences are all part of life's road.

Summer Lightning (1974) (from the album "Easy")

Whenever I hear this song it takes me back to the time I realised Ralph indeed was not a one hit wonder. This track was on the B side of my 45 vinyl copy of "Streets of London", and I did not like it the first time I played it. That aside, I think couples losing their way and considering marriage guidance should give this a listen instead. You soon realise that life is just too short - another Ralph classically well observed scene. Since listening to "Summer Lightning" I was converted and it became a kind of oxygen for me. It led me into a frenzy of buying up all Ralph's back catalogue on vinyl.

You Well Meaning Brought Me Here (1971) (From the album of the same name)

Ralph played piano for this one. Very profound lyric. The original album has very high production values but does not degrade in a live performance. So many of Ralph songs are like this - if they cannot be sung out on the road then not much point in writing them really.

I cannot remember when we were introduced to Jane Clark (violin) so I will mention her now. This young lady appears to have collaborated with a very large selection of kindred spirits, Ralph being the latest to add to her bow! All I know for sure is, if Ralph had paid young Jane based on smiles, he would have blown the budget, she positively beamed and owned the stage appropriately and shone throughout the proceedings but did not upstage Ralph once.

Bridge of Sighs (1986) (again, from the album of the same name)

I purchased this album late in my collecting days although many of the songs were familiar to me, good production values here too on the studio album. So we left the first half on a high.

Intermission

The interval was about 15 minutes, very minimal, how I like them, never much time to do anything anyway, short of the obvious!

Reverend Thunder (Blind Faith) (2010) (from the album "Somewhere Down the Road")

This is another song that does not strike the same chord with me but the audience warmed to it. Nevertheless Ralph gets stuck in there and Miss Gibson sure does sing sweet! Hearing this song again made me think about Ralph and his playing style and influences, his love of a freshly strung guitar etc. At Ralph's 60th Birthday bash (2004), he started talking about 'Miss Gibson' and I must admit it confused me!

The Ghost of Robert Johnson (2010) (from the album "Somewhere Down the Road")

I feel a lot more at home with Mr Johnson who seemingly led a very chequered life. I like the way the melody slinks along in the background and the narrative struts the stage with a gentle kind of menace.

Barges (1972) (From the album "Not Til Tomorrow")

Ralph and Tony Visconti first worked together on the string arrangements for "Eight Frames a Second" in 1969 in the Transatlantic records days. In 1972 he produced "Not Til Tomorrow" and played on the track "Barges", thus Tony very kindly took a plane from the USA to join Ralph on stage to recreate that "history" live on stage at Drury Lane. Tony played what I think was a tenor recorder and was joined in his articulations by John Sheahan on tin whistle and Frank Gallagher on flute.

First and Last Man (1971) (from the album "You Well Meaning Brought Me Here")

Ralph encouraged us to sing-along-a-Ralph to this one, I tried a bit but very soon gave up, as I could not keep up with his delivery and I decided, actually I would rather listen! I absolutely adore the idea of writing your thoughts on the wind! Very nice song, with Ralph tinkling the ivories.

The Ferryman (1971) (from the album "You Well Meaning Brought Me Here")

By far one of my top ten favourites, Ralph does not tend to play this a lot, so I was over the moon to hear this live. The orchestra was exactly what the studio version needed but certainly Graham Preskett's accompaniment made up on the night for their absence. I believe it's truly autobiographical and speaks loudly of the humanity of the man who wrote it and of his destiny to be "the travelling man". I like the river that flows within him and how all this visualisation plays with your mind.

Take it Easy or Let Me Down Easy (1974) (from the album "Easy")

As I had no pen and pencil on the night, I based my running order on Jenny Melmoth's review (having asked for a running order from Leola to no avail) so I trust when she wrote "Easy" the lady did mean one the above mentioned, easy (ho ho) to think that's what it is called, and why indeed not! [It was 'Take it Easy' – John.] With hindsight I should have done what an Al Stewart fan did at one gig, he simply asked the stage crew for the running order pinned to the monitor at the end of the show!

The Girl on the Jersey Ferry (2010) (from the album "Somewhere Down the Road")

Very good imagery. And you know what, curiously, I would like to meet her, now is that not weird, for someone who is a figment in a writer's pen! But it illustrates what the essence of a good song is, subject matter, only has to be believable that's all. This song was inspired by "one line" from the film Citizen Kane, the next one curiously was also inspired by a one liner.

From Clare to Here (1976) (from the album "Right Side Up")

This traditional Irish song (tongue in cheek) has been almost worn out, but still seems fresh in the telling, you cannot beat reality for a good tale. Somehow this song encapsulates what it is to be Irish and the very good nature of its people and yeah they do things for the crack because life is for living. For a would-be cockney I am very Celtic at heart too and sway lyrically to the thought of white horses dancing upon that other ocean. To create such a story from just a single comment or one liner is quite an achievement, even though the gaps are pretty self-evident, filling them in takes skill to weave them in a credible format. And for once, we at last had that illusive fiddle, an indicative lament embracing those 40 shades of green.

The Setting (1986) (from the album "Bridge of Sighs)

"Clare" is a great intro to "The Setting", once again a very tight observational dialogue, you get the impression that emigration is a way of life in Ireland, but lots also go back to their roots eventually. During this number, the ensemble reached a crescendo so at one point we had a guitar and voice, a double bass, three violins and a tin whistle, I think there was so much frenetic activity that I was fair dizzy, but a great sound, who says a full band is unseen at a Ralph McTell Concert; not Ralph's usual style I know, it takes a lot of concentration to get the thing to gel in a live set.

Wonderful Country (1992) (From "The Boy With a Note")

Shame "Wonderful Country" was set in the States and not Wales, but I suppose the USA was where Dylan found both his fame and his downfall. The BBC dramatization of his life "A Poet In New York", was very gritty and not something I would want to see again, it kind of destroyed the myth of the man for me, I don't want to know about his faults only his poetry and prose. So for me Ralph's work traces his life and ticks all required boxes being honest but not too detailed, I for one feel inclined now to read some of his work which I never would have done before, so if only for that Ralph's version is my number one.

I Don't Think About You (1995) (From "Sand in Your Shoes")

This song has for me a bit of a country and western feel about it and plenty of fiddle. Not sure who Ralph is thinking about but on a level what does that matter! Very melodic and lilting.

The Unknown Soldier (2014) (From "The Unknown Soldier" EP)

The story of the unknown warrior's grave in Westminster Abbey, London, is one seldom told. The nearest we get is the cenotaph, itself meaning "empty tomb", and the attaching ceremony on the Sunday nearest to Armistice Day 11th November held at the cenotaph in Whitehall, London. When the EP came out I was unsure what we might get, especially when I saw the words "Ypres Menin Gate"" in the lyrics I thought, "How will he sing that?" No worries, it was kind of half spoken / sung, I think Ralph had been long in the planning for this rendition, on the night we were treated to appropriate WW1 footage on the back projection. It came across very well and was a fitting tribute to what we now know on a level was a somewhat futile waste of life, portrayed as a war to end all wars. There was a really nice touch at the end with poppies, Ralph certainly pulled all the stops out, and special effects were top notch. Definitely a "Song in the Key of Life".

Streets of London (1969) (from the album "Spiral Staircase")

Out of the blue enter stage left one John Williams, guitar in hand to add a bit of a classical touch to Ralph's usual rendition. Have to admit I was not sold on the idea, and look forward to the DVD to prove me wrong – I hope the sound engineer had it miked up so we can hear that remix, I thought John's guitar was drowned a bit, but as I say we will hear soon enough. Anyway it was a good birthday surprise for us. John Williams has such a really distinguished track record. He looked very slim and weathered - very nice of him to turn up.

West 4th Street and Jones (Circa 2014) (Not as yet released apart from You Tube and an appearance on Vintage TV)

A curious idea for a song, which works very well as it happens, anyone who knows about the history of folk, I guess will be familiar with this definitive Bob Dylan album cover the pix shot exactly where indicated in the song title, well this was the nearest we were going to get for a nod to Bob. And that seemingly was that, the evening shot past at breakneck speed and before we knew it, was almost over.

Around the Wild Cape Horn (2010) (from the album "Somewhere Down the Road")

This is a true story about the adventures of one Irving McClure Johnson born 4th July 1905 (all American boy!) in Massachusetts, died 2nd January 1991. This pioneering merchant sailor, lecturer and author shot amateur footage on the journey around the said Cape Horn on board the barque "Peking"in 1929, this became the film "Around Cape Horn" and subsequently a fitting song in tribute in 2010! We also had back projection footage of the "Peking" and with the band cooking on gas it was quite a high point and the effects, though not essential, did in fact enhance the performance.

Encore

Usual rousing cheers wolf whistles etc and then…

Somewhere Down the Road (2010) (from the album of the same name)

I was ready for a rousing rendition of "The Things You Wish Yourself" with The St Keverne Brass Band and eight in a bar when Ralph said "See you somewhere down the road" and I thought to myself, that's not it! Don't get me wrong, "Somewhere Down the Road" is a good song, just not the one I requested. Anyway I was well seen off, so had to be happy with this pleasant little ditty instead. I like the fact that, obliquely Jonah Jones gets a mention - he's the friend he went to see, very nice touch that, proving that Ralph is a very loyal friend to those within his circle. I hope I do get to see Ralph somewhere down that road and I will try not to bend his ear too much, no promises though!

Curtain Call

If the curtain had come down, the evening was a resounding success, surpassing Ralph's 60th Birthday bash.

Homeward Bound

I was busy minding our coats etc., waiting for her indoors to powder her nose, standing on the stairwell near the circle where we had been seated, just wondering if Ralph was meeting and greeting tonight or not, a while back he said he was not going to do it again but he might have relented. Anyway next minute Mr May flashed past me. I thought I had seen Nanna a moment before and thus wondered what was going on, next thing the wife turned up and a man standing by me was heading for what I now had worked out was an after show party in the bar area, when a security man came up to this man next to me and asked was I with his party as well, to which he said "No" and thus my invite to the party was off, well I ask you, all he had to do was say "Yes!" even though I did not know him from Adam, but duly seen off we were politely asked to leave and trundled back to our hotel for a room party of our own, getting a drink in London out of hours on a Sunday night proved to be impossible for me at least!

What I had not really taken on board was that the evening was essentially a virtual private hire night, as The Theatre Royal was then hosting a run of "Charlie and the Chocolate Factory", something that I believe confused most of the ticket holders when they turned up, me included. It was that horrible sinking feeling: I hope I have not come on the wrong night!

Thankfully, I hadn't.



back to top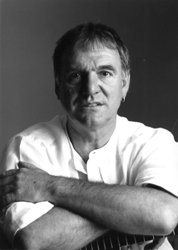 Ralph's 70th Birthday Concert
Theatre Royal, Drury Lane, London
Sunday 7 December 2014
Jenny Melmoth To describe this triumph of a concert as slick does it grave injustice, but it ran with an apparent ease and smoothness which belied all the complicated planning and effort that must have been needed to achieve such a stunning evening. I remember Ralph's 60th concert at the Royal Festival Hall as being a knock out but I think this one surpassed even that. 28 songs - is that a record?

True, Ralph was helped by an array of friends appearing as guest artists who were as impressive and varied as Tony Visconti and John Williams among others, not to mention the dazzling Jane Clarke on violin, who captured everyone's heart, including, I think, that of the Main Man.

Ralph was in fine voice, and it seems if anything to have improved with the years like vintage brandy. The sound generally was superb throughout and the playlist extraordinarily varied, reflecting many stages in Ralph's life and development in song writing. Often it was emotionally charged and ran from very early material through to his latest release. Ralph opened with Nanna's Song - a lovely tribute to the lady who has 'looked after him' all these years - and there were other early songs, including The Ferryman which mesmerised me at Drury Lane back in 1975. It was the first time I had ever heard it and the first time I had ever seen Ralph live - just as he was going to 'take a break for a while' - a threatened early retirement. Having just 'found' him that would indeed have been a cruel blow, but he had been struggling to please audiences who resented the introduction of a band for part of the set. I remember some of our own party grumbling about this section of the evening. People wanted Ralph to themselves. As we know, one of his special gifts is his communication with his audiences and they don't like anything that gets in the way! At Drury Lane this time there was no problem, the bond between Ralph and the audience was never broken, indeed we drew pleasure from seeing him look happy and relaxed and enjoying the extra dimension that additional musicians could bring to his music. It was a particular privilege to hear Streets performed alongside the virtuosity of John Williams, while Ralph's encouragement to sing-along with any of the songs made the evening even more inclusive. I have to admit however, that hearing The Ferryman again in that theatre brought back old memories and reduced me to a soggy heap.

Ralph has never been one for special effects in his shows; wearing red shoes for a tour a good few years ago is about the closest he has got in the past, but the addition of some appropriate back projections this evening really worked. To see 'The Peking' with the waves crashing 'down like avalanches' during Around the Wild Cape Horn and to watch the horses drawing the coffin of The Unknown Soldier could only enhance the songs.

The programme included many of my favourites, some of which I had not heard live for a while: When I Was a Cowboy, In the Dreamtime and The Setting. The beautiful Barges was there, contrasting with the bluesy feel of The Ghost of Robert Johnson and the jaunty wit of I Don't Think About You. Dylan Thomas made his piano appearance with Wonderful Country and Bob Dylan with the newish West 4th Street and Jones. The encore and closing song Somewhere Down the Road is, for me, another tear jerker; a foreshadow of that inevitable second retirement one day. Let's not think about it.

It was a very special and wonderful evening. Thanks to everyone who helped to make it so, but mostly thank you Ralph. You are loved, respected and cherished by so many. Happy Birthday and here's to an 80th!

The Set List

Introduction: Rory McGrath

Guests: Danny Thompson, Graham Preskett, Frank Gallagher, Tony Visconti, John Williams, Jane Clarke and John Sheahan (the last original Dubliner)

1 Nanna's Song
2 Zig Zag Line
3 When I Was a Cowboy
4 In the Dreamtime
5 Run Johnny Run
6 Tequila Sunset
7 When They Were Young
8 River Rising Moon High
9 Sweet Mystery
10 Summer Lightning
11 You Well-Meaning Brought Me Here
12 Bridge of Sighs
Interval
13 Reverend Thunder
14 The Ghost of Robert Johnson
15 Barges
16 First and Last Man
17 The Ferryman
18 [Take it] Easy
19 The Girl on the Jersey Ferry
20 From Clare to Here
21 The Setting
22 Wonderful Country
23 I Don't Think About You
24 The Unknown Soldier
25 Streets of London
26 West 4th Street and Jones
27 Around the Wild Cape Horn
Encore
28 Somewhere Down the Road


back to top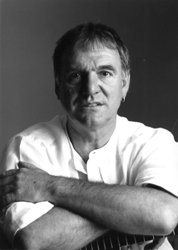 Celtic Cousins Tour
The Queen's Hall, Edinburgh
Friday 2nd May 2014
Jenny Melmoth Although I have seen Ralph play live so many times, it has never been in Scotland before. It was a pleasure to be in this fine venue, in the beautiful city of Edinburgh, accompanied by Pauline, the hostess for my stay there. She had not previously been aware of Ralph's music beyond Streets and it is always a privilege to introduce someone to the experience of a live McTell concert.

The new CD Celtic Cousins groups the songs neatly for Cornwall, Scotland, Ireland, then Wales, Ireland being most strongly represented. The set Ralph played on 2nd May only partially reflected the album, as none of the 'Scottish songs' appeared; Break of the Union needs a piano, and the other two probably require more accompaniment than even Ralph can comfortably provide solo. Perhaps to keep the balance, Ralph chose to play only one of the Irish songs, From Clare to Here. It was a beguiling set, beginning with that young man's song The Mermaid and the Seagull (set I believe in Cornwall). There was reference to this centennial year with Maginot Waltz for WW1, and with Summer Girls, Slipshod Taproom Dance and Conundrum of Time for Dylan Thomas. Then an opportunity to appreciate again the two new songs, Canopus and West 4th Street (with glorious harmonica). The work of the 'mainly black, mainly blind and dead guitar heroes' shone through in Hesitation Blues and In the Jailhouse Now.

Ralph was in fine form and my friend Pauline was thrilled with the performance. Her first comment at the end of the show was 'I loved his poetry, and you could hear every word!' Those of us who have seen Ralph often, may have grown blasé about the quality of his diction, but it is a phenomenon to treasure among his other talents.

I wish I could follow the Irish leg of the tour to see how the set changes there, but will be Down the Road in Dylan Thomas country at Laugharne and Cardiff.

The full set list:

1 Mermaid and the Seagull
2 London Apprentice
3 Hesitation Blues
4 Summer Girls
5 Slipshod Taproom Dance
6 Conundrum of Time
7 First Song
8 Barges
9 Jailhouse Now
10 Clare to Here
11 Maginot Waltz
12 Canopus
13 Streets of London
14 River Rising
15 West 4th Street
Encore
16 Michael in the Garden


back to top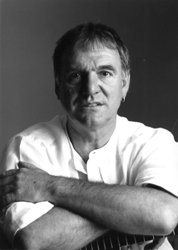 Danny Thompson's 75th Birthday Sessions
The Half Moon, Putney
Thursday 3 April 2014
John Beresford Danny Thompson, double bass
Ralph McTell, guitar and vocal

Danny Thompson celebrated his 75th birthday by taking up residency at the Half Moon to play six nights with different guests with whom he had worked during a long and varied career. Danny said he'd been to too many 'remembrance' gigs for dead folk who couldn't be there to enjoy them. So he decided to have his own wake before he went. Ralph joined in the premature celebrations on the fourth night.

Ralph and Danny played mostly mid-70s songs from their collaborative peak, and most of them had choruses or refrains that Ralph encouraged us to join in on. So we did. It was the best ever folk club sing-along - all those years practising in the bath finally given vent…

In vague order:

Ralph and Danny
When I Was a Cowboy
Tequila Sunset
When Maddy Dances
Sweet Mystery
Weather the Storm
From Clare to Here
Truckin' Little Baby
Can't be Satisfied
River Rising
May You Never
San Diego Serenade
Let Me Down Easy
Ralph solo
A Kiss in the Rain
West 4th Street and Jones
Anji / Lullaby of Birdland / Hit the Road Jack
Ralph and Danny
Streets of London
Summer Lightning
Zimmerman Blues.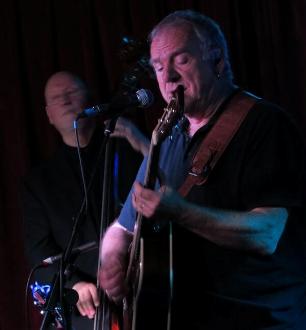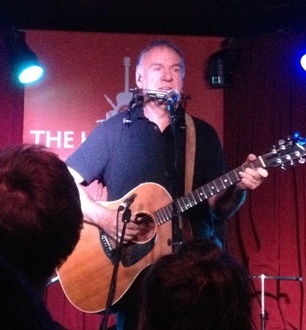 Two friends sharing their mutual appreciation, their musical talents and their memories in the way they know best, capped by a natter in the bar with folk who have become friends from many meetings 'down the road'. A splendid evening. Oh, and happy birthday, Danny.

back to top




Friday 6 December 2013
Jenny Melmoth

1 The London Apprentice
2 First Song
3 Maginot Waltz
4 Canopus (12 string)
5 An Irish Blessing
6 Sylvia (piano)
7 Naomi (piano)
8 Streets of London
9 Wino and the Mouse
10 After Rain
11 Sweet Mystery (with harmonica)
12 Tequila Sunset
13 The Ghost of Robert Johnson
14 Grande Affaire
15 Lost Boys
16 Around the Wild Cape Horn
Encore
17 West 4th Street and Jones
18 The Things You Wish Yourself (piano with grandchildren Louis and Isabelle)

back to top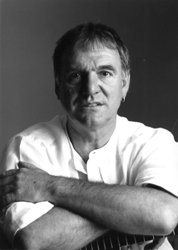 Reviewing the Autumn Tour - 2013
Jenny Melmoth

I have been privileged to attend four concerts this time Down the Road: Shrewsbury, Newark, Buxton and Norwich - the last stop before London in December. Of course Ralph is incapable of a poor performance, there is only good, better and best. On this tour, Ralph seemed to be building up to exceed even that!

As usual, there was a core programme of 17 songs, with a few changes each set (often to meet with requests) so that no two running orders were ever exactly the same. Shrewsbury and Newark offered the addition of the piano, which is a relatively rare treat, and I was especially delighted to hear that tear jerker 'Old Brown Dog'. Buxton provided a meeting with my old and much loved friend 'The Ferryman'. Staying with the theme of water, Ralph also took us round the 'Wild Cape Horn' each evening and for a wander by the Thames in contemplation of the universe, with the gentle 'Lunar Lullaby'.

In contrast to the old songs, Ralph was trying out two brand new ones at all four concerts. It is always exciting to be in at the beginning of these, and the first one, 'Canopus', brought out the 12 string guitar, whose louder tone enhanced the image of the little Cornish train, while 'West Fourth Street' will probably become a classic McTell song - especially for Bob Dylan fans.

If I had any reservations at all about these three concerts it would be that none of Ralph's 'harder songs' were represented. However, this was more than put right at Norwich, where (not only was 'The Ferryman' played again) but 'Lost Boys' and 'Peppers and Tomatoes' were added to the mix to form a perfectly balanced set. Ralph himself was in sparkling form, having had a really good day, thrilled to meet someone very special that afternoon. He did tell us who it was, but I think it is Ralph's secret to pass on. Perhaps a clue is permitted however, with a few words from not till tomorrow . . . 'I remember my first - - - - - well . . . ' [Strong hint below!]

'So hard to say goodbye . . .' Fortunately, there is still the Cadogan Hall to look forward to. Thank you, Ralph.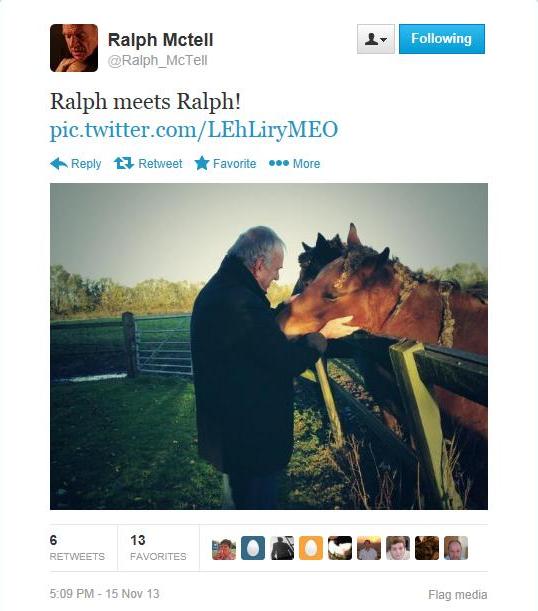 Thursday 14 November 2013
Jenny Melmoth

1 The London Apprentice
2 First Song
3 Summer Girls
4 Maginot Waltz
5 Canopus (12 string)
6 Housewives' Choice
7 Tequila Sunset
8 Lost Boys
Interval
9 Reverend Thunder
10 Lunar Lullaby
11 A Kiss in the Rain
12 The Ferryman
13 Streets of London
14 Peppers and Tomatoes
15 The Ghost of Robert Johnson
16 Around the Wild Cape Horn
Encore
17 West 4th Street and Jones

back to top




Saturday 26 October 2013
John Beresford

1 The London Apprentice
2 First Song
3 Summer Girls
4 Maginot Waltz
5 Canopus (12 string)
6 Sweet Mystery
7 Reverend Thunder
8 Mr Connaughton
9 Lunar Lullaby
10 Streets of London
11 (I have Sweet Mystery here again, but it can't have been!)
12 Michael in the Garden
13 Housewife's Choice
14 West 4th Street and Jones
15 The Gost of Robert Johnson
Encore
16 Grande Affaire

back to top




Friday 25 October 2013
John Beresford

1 The London Apprentice
2 First Song
3 Summer Girls
4 Maginot Waltz
5 Canopus (12 string)
6 Old Brown Dog (Steinway)
7 Naomi (Steinway)
8 Zimmerman Blues
9 In the Dreamtime
10 Reverend Thunder
11 Lunar Lullaby
12 Streets of London
13 Housewife's Choice
14 The Girl from the Hiring Fair
15 Michael in the Garden
16 West 4th Street and Jones
Encore
17 Around the Wild Cape Horn

back to top


Saturday 12 October 2013
John Beresford

Ralph's 'One More for the Road' tour crossed the Mersey yesterday to the Pyramid and Parr Hall complex in Warrington. It's been a relatively straight road from the deep South West to the North West so far, but from here the 'one more' effect kicks in as the tour takes a circuitous route East, then North, before doubling back to Derbyshire and South Wales and finally back darn sarf.

The previous time I'd seen Ralph in Warrington, he had played the smallest of the Pryamid and Parr halls, which had raked seating. This time we were in the middle-sized studio theatre, with no rake, which gave a slightly claustrophobic effect and muffled acoustic. A good job then that Ralph's technique and delivery broke throught the perceived barriers and showed that if this is indeed the last of the big tours, it won't be because Ralph's performances have got weaker. Far from it, he continues to get stronger and better year on year, and the two new songs he is breaking in on this tour are as good as anything he has written in a career of nearly five decades.

Ralph played Miss 'J45' Gibson for most of the set, and a 12-string for one of the new compositions:

London Apprentice
First Song (a request)
Daddy's Here
After Rain
Weather the Storm ('I forgot to ask you to join in on the chorus - there will be another chance later')
Maginot Waltz
Canopus (A new song - played on the 12 string)
Sweet Mystery
Reverend Thunder (Blind Faith)
Lunar Lullaby
Streets of London (another request - 'Here's your chance')
Around the Wild Cape Horn
Mr Connaughton
West 4th Street and Jones (Rotolo) (The second new song)
The Ghost of Robert Johnson
(Encore) Grande Affaire.

The merchandise stall was well-stocked with all the current titles, including Volume 3 of the 'Songs for Six Strings' series, a re-packaged edition of the 'Travelling Man' double CD and a 30th-anniversary re-issue of 'Alphabet Zoo'; and a new T-shirt showing Ralph at the Isle of Wight festival in 1970. The legend continues.

back to top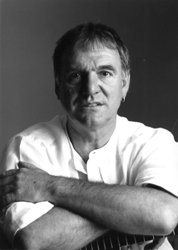 Theatre Severn, Shrewsbury
Wednesday 9 October 2013
Naomi Squire It's almost 3 years since we first visited Theatre Severn (to see Cara Dillon), and I remember thinking almost as soon as I walked into the place that I wished Ralph would go there one day. Tonight I got my wish!

It's a beautiful modern theatre. Sometimes newer theatres don't have much character, but in this case they've knocked through into the former chapel next door and turned it into a bar – I think this intriguing mix of old and new is the reason I was so taken with it!

We took our seats about 10 mins before Ralph was due on stage – second row, just left of centre, with an uninterrupted view of the stage – perfect! 'Sofa Noodling' was playing in the background, and a silhouette of Ralph with guitar, encircled by the words 'One More for the Road' projected onto the back curtain of the stage. On the stage, 3 guitars (one a 12 string) a grand piano and a harmonica. 8pm came. And went. After about 5 minutes, silhouette, music and auditorium lighting faded out, and the stage was lit up. Still no Ralph. Another couple of minutes elapsed before he finally arrived, in black jeans, blue polo shirt and shiny black shoes, carrying Miss Gibson (Four guitars! We thought that three was a lot for Ralph!), and was greeted by a roar of applause.

Having thanked us for the applause, he launched straight into 'London Apprentice', commenting at the end that London is a place no-one knows entirely, that there are always new bits to learn about.

His second song came as a complete shock to me – both in that it has great personal meaning for me, and because Ralph has said in more than one interview that because it's so deeply personal to him he could probably never play it live – 'Daddy's Here'. He explained a bit about his family background at this point – how he last saw his father when he was 6, and about the effect of this on his family.

His next two songs – 'After Rain' and 'Weather the Storm' were, I think, both dedications/requests – one to Maart Allcock and his wife who were in the audience. Ralph explained that his memories of the effect of summer rain showers on the dusty housing estate in Croydon (Poole not mentioned!) when he was growing up inspired the first of these. I think the only thing he mentioned about the second one was that a number of his songs seem to be weather-related!

Next, he spoke about WW1, and the fascination it holds for him, arising partly from speaking to his grandfather, uncles and 'not really' uncles about their memories of the war. This led firstly into another request 'Maginot Waltz', and then into the first of two brand-new songs in the set, and the only one to be played on the 12 string.

He didn't give a name for this song – in fact, he said that in some ways it's still a work in progress, so perhaps it hasn't got one yet so I'll call it "Canopus". It's about a small steam engine called Canopus that ran between Pentewan and St Austell in Cornwall from the late C19 until the outbreak of WW1. It mostly carried Cornish clay from the pit to the harbour, but was also used to take children and families on Sunday School outings to the seaside. The engine was taken to the Continent after the war broke out, to be used for a much sadder purpose – to bring dead soldiers from the Front for burial. Ralph skilfully combines the imagery of it carrying the Cornish clay with that of the soldiers being brought from the mud of the trenches to be buried and returned to the clay from which, metaphorically, they came. A song of moving words and striking tune. I realise that it's partly down to using the 12 string (and, of course, immense talent and constant practicing!) but this is one of these tunes with such an incredibly rich sound – melody, bass and more – that you find yourself astonished that it can be made by one man playing one guitar!

Then, back to Miss G for 'Sweet Mystery', prefaced by an explanation of him watching young couples leaving a disco many years ago, making what he said could possibly be described as 'romantic' suggestions / requests to each other, that were so blunt that the friend he was drinking with at the time, wondered aloud where all the mystery of romance has gone, giving rise to this song.

Next, two songs on the piano – 'Traces' – with no introduction or comments at all, and 'Naomi', with the story about visits to his great aunt and uncle that inspired it.

Back to the front of the stage, and Miss Gibson, next, for 'Grande Affaire' and 'Housewives Choice'. 'Housewives Choice' was preceded by an anecdote about the recording of his 'Sofa Noodling' album – and how it came to resemble a scene from a fairy tale!

Ralph then spoke of programmes he's been watching recently presented by Prof Brian Cox (who he described as an ex-musician, before mentioning his academic career!), and the sense of wonderment about the universe they'd inspired in him, before launching into 'Lunar Lullaby'. This was followed by 'Streets of London' – we were all invited to join in – apparently this brings tears to the eyes of his roadie, Eduardo.

Then an absolutely blistering performance of a song that's been a personal favourite of mine since we were lucky to be at the first (just possibly 2nd ?) ever public performance of it, which he described at the time as a practice for its proper 'premier' at his 60th Birthday concert – 'Around the Wild Cape Horn'. It was word, tone and note perfect. I'm not sure why, but some performances of a given song just seem to stand out, no matter how often you've heard it before, and this was one of them. Stunning.

The following song, 'An Irish Blessing' brought tears to my eyes, as our daughter has just gone back to Uni for her second year. It's the line 'to cherish is the easy part, the hardest task is letting go' that really does it I think! Another example of Ralph's skill in expressing your everyday experiences and feelings in words better than you can yourself.

The penultimate song was also the second new one. It's called 'West 4th Street and Jones', and is based on a Bob Dylan record cover from 1963, containing a photo taken at this road junction in New York.

Finally, with little introduction except that it was dedicated to one of his guitar heroes, 'The Ghost of Robert Johnson', another outstanding performance.

Ralph left the stage, to more tumultuous applause, and returned to play 'Hesitation Blues' as his encore, again on Miss Gibson, leaving us to wonder what the other two guitars were for!

He didn't announce that he'd be coming out to 'meet and greet', but Eduardo had assured us that he would, so we waited, chatting with McTellite friends – old and new – for ten minutes or so and, sure enough, he did come.

The queue had somehow formed in two directions at once, splitting where it went around a table and chairs, but McTellites being polite people, with much 'after you', 'no, after you', we gradually merged and moved forwards.

A brief chat to Ralph and a signature on the new 'Songs for 6 Strings' CD, and the evening was over.

Ralph did mention at this point that his hand / wrist is causing some problems, but that he's going to get it 'looked at'. I know that the type of tendonitis he has (Quervains, according to the newsletter) can usually be successfully treated, so things should improve for him - I hope so, as I know from personal experience how excruciating tendon problems can be. (I did wonder if this problem was the reason for the 4 guitars – so he could change to one with a different size neck if need be, as I think that he mentioned in an interview that this can make a difference.)

All in all a truly fantastic evening in the company of someone whose magic, perhaps, lies in being both extraordinary and yet very ordinary, at one and the same time. Very highly recommended! If you haven't got your ticket yet, get it soon – last night was a sell-out, as is tonight.

I heard a number of people saying last night that they hope this isn't the last tour, and despite his worries about people thinking he's showing his age or looking tired, to me (and judging by comments from others last night, not just me!) he's as good as ever, still getting better even, as the new songs show. He certainly didn't look at all tired last night. Mind you, it would be understandable if tours got a bit shorter as he approaches his big birthday!


Postscript: Carl Squire

Just a guess about the guitars. Maybe 4 is Ralph's standard for this tour, Miss G, the 12 string, another with open tuning and a spare in case the elderly Miss G misbehaves. I suspect that with a grand piano at the theatre Ralph chose to use it and adjusted the set to take out a couple of 'open tuned' pieces. We couldn't see what the other 2 six strings were from where we were sitting, they were mostly side and back towards us. I'm impressed Naomi could read my scrawled set list, written in the dark with lines crossing over each other. In fact the note book reads at one point "After rain storm".

back to top




Saturday 8 December 2012
Jenny Melmoth

1 The London Apprentice
2 Walk into the Morning
3 England 1914
4 From Clare to Here
5 You Well Meaning Brought Me Here (piano)
6 Birdman
7 Sand in Your Shoes
8 Reverend Thunder
9 Naomi (piano)
10 The Girl from the Hiring Fair
11 Streets of London
12 That'll Do Babe
13 The Girl on the Jersey Ferry
14 Michael in the Garden
15 Lost Boys
Encore
16 Somewhere Down the Road

back to top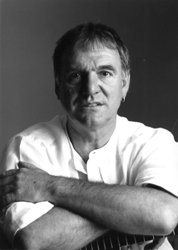 Clonter Opera Theatre, Congleton
Saturday 20 Oct 2012
Carl Squire What an incredible venue! Clonter Farm has done what many farms have done over the years, diversify. Many have used their land for caravans and holiday chalets. Clonter have built an opera theatre. A 400 seat venue, fully raked theatre with balcony, bar and lounge area in the heart of the Cheshire countryside. The emphasis being on 'heart', this is one venue when Sat Nav really is required.
We were in the centre of the third row, on a level with Ralph. He was a little late starting at 8:05.
But came on stage to applause and went straight into "Walk into the morning". A short chat about the generation he remembers who could recall the events of the first world war led into "England 1914, the Lamplighter". Ralph told us about Rev Gary Davies, the blind, gun toting, guitar playing Harlem minister – "Reverend Thunder". We had an account of Ralph getting stuck at one line of Citizen Kane, and how this has become "The Girl on the Jersey Ferry" Ralph got all the words right tonight, at New Brighton he missed a few lines.
Without any explanation Ralph moved to the piano - In New Brighton this was Ralph's own stage, digital piano, but this was Clonter Opera Theatre so he had a grand piano. Ralph went straight into "England" and explained the song to us afterwards, it's a love song.
All Ralph's guitar pieces had been on Miss Gibson, his J45, but now Ralph used his other guitar, it was, he said, a new one and it wasn't the Gibson he'd had at New Brighton. Into "Birdman", I think this might be one of my nominations for the next volume of 'songs for 6 strings' – but not this version because he forgot to put his slide on his finger and had to stop to pick it up!
I never realised before that "The Setting" was played open tuned but that's how Ralph played it tonight. This led into a folk song, love song with a happy ending – no one dies or drowns or anything, written for Fairport, "The Girl from the Hiring Fair".
Before the show I'd had a chat with Eduardo and slipped him a request for Ralph. Ralph moved back to the piano and told us about an elderly couple he'd known when he was younger and how it's not always necessary for them to speak, you sometimes just know what's going on in the other's head when you've been together a long time. This led into "Naomi". I've never made any request before but knowing he was using the piano on this tour I couldn't resist asking for it.
Back to Miss Gibson and Ralph did something I have never ever see him do on stage in 20 odd years. He had to tune up! Seriously, he used a digital tuner. He went into "Now this has started" and into more tuning, he said the guitar shape had changed.
He didn't try the Glasgow accent when he told us of the occasion he and Billy Connolly heard a young trade unionist say a man without a job is "A Stranger to the Seasons".
Ralph asked us all if we'd ever wanted to sing at the opera house as we were invited to sing along with "Streets of London".
The tuning problems seemed to have settled down so next came "Gypsy" followed by the only piece from Sofa Noodling, "Housewives Choice".
Ralph gave us a brief account of the tragically short life of Robert Johnson and finished with "The Ghost of Robert Johnson" before going off to hide in the dark for a minute then return for the encore. "Somewhere Down the Road". Ralph left the stage at 9:46 pm
Ralph was relaxed throughout and he and the audience seemed really in touch. Maybe at New Brighton, since that was the second date of the tour, Ralph was a bit tense; at Clonter he was really at ease. The audience was responsive to the humour and all seemed to enjoy. It was a mixed bunch of all ages, a few teenagers and a good number of under 30s. Quite wish I was going to Derby tonight or London for the end but I'm glad we got to see him at the beginning and middle.
back to top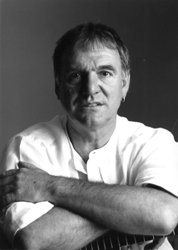 Georgian Theatre Royal, Richmond
Sunday 14 Oct 2012
John Beresford

Ralph played the beautifully restored Georgian Theatre Royal in Richmond, North Yorkshire. They had very uncomfortable seats in the 18th Century, which were packed rather too close together for a 100-minute gig with no break. But Ralph was relaxed and in great form, which more than compensated for the discomfort. I couldn't have suggested a better set - half of the 'Somwhere Down The Road' songs interspersed with 'You Well Meaning', 'Old Brown Dog', 'Michael', 'Birdman', 'England 1914', 'Stranger to the Seasons', 'Ferryman' and the ubiquitous 'SoL' with full choir... plus one of the noodles from the new CD. We met some old friends, and, as usual, chatted to a few who had not seen Ralph before. As well as the new CDs on the merchandise stall, there's a T-shirt with the 'heartbeat' snippet from 'England'.

Here are Jenny Melmoth's notes showing how Ralph's set list developed as the English Heartbeat tour progressed. The first column shows the core set, based on Richmond, then the other columns show variations at other venues...
| | | | |
| --- | --- | --- | --- |
| Richmond, 14 Oct 2012 | Sheffield, 16 Oct 2012 | Congleton, 20 Oct 2012 | Derby, 21 Oct 2012 |
| Walk into the Morning | | | |
| Rev Thunder (Blind Faith) | | | |
| England 1914 (The Lamplighter) | | | |
| The Girl on the Jersey Ferry | | | |
| You Well Meaning Brought Me here | | England | |
| Birdman | | | |
| The Setting | Bentley and Craig | | |
| | Still in Dreams | | |
| A Kiss in the Rain | | | From Clare to Here |
| Old Brown Dog | England | Naomi | Naomi |
| Stranger to the Seasons | | | |
| The Ferryman | | Now This Has Started | Now This Has Started |
| Housewife's Choice | | | |
| Streets of London | | | |
| Michael in the Garden | | Gypsy | Small Voice Calling |
| The Ghost of Robert Johnson | | | |
| | | | (Encore) Terminus |
| (Encore) Somewhere Down the Road | | | |



back to top




Friday 5 Oct 2012
Carl and Naomi Squire

Ralph was on excellent form on the second night of the 'English Heartbeat' tour.

The venue was the Floral Pavilion, which is right on the edge of the Mersey estuary in New Brighton. It was the first time we'd been there, and, in the main, we liked it very much. The only problem with it was that it was unreserved seating – we got there early and managed to get seats in the 2nd row, so we had a good view, but I wouldn't have wanted to be at the back, especially as the seats weren't raked, and the stage was low – I think visibility must have been very poor back there! However, sound was obviously more important then vision and that was, as ever, excellent. I was particularly pleased to see a keyboard on the stage, as it's years since I've seen a gig where he'd played one. His new CD 'Sofa Noodling' was playing quietly in the background as we waited.

Ralph started a couple of minutes late, and explained that he was going to start with a song he'd written especially for opening performances – 'Walk into the Morning'. He followed this by saying that he's lived in London for longer than anywhere else, but that, even so, there's always something new to find out about it. This, obviously, led into 'London Apprentice'.

His 3rd song was 'The Lamplighter – England 1914'. He tied this to the previous song by talking about his love of England, and also told some stories about his Uncles who fought in WW1, including how one of them lied about his age to join up, and how this came to be found out, resulting in his being sent back home.

After this, he began to talk about playing for Rev Gary Davis, and the photo of this meeting which he treasures. I'd assumed he was leading up to 'Hesitation Blues', but, in fact he then played 'Reverend Thunder'.( Almost the entire set was played on 'the best guitar in the world', Miss Gibson, and at this point he told us how she got her name, and also how little remains of his original Miss G!)

This was followed by 'The Girl on the Jersey Ferry'. Then moved to the keyboard, and, without introduction, into 'You Well Meaning'. I find this a hard song to listen to, because it evokes so strongly the pain that Ralph went through in his 20s, and some of its lines 'I know every stranger here' and the last few lines, in particular, are so poignant. I was still very glad to hear him play it, though, as we've only heard it live once before. As I said, there was no introduction to this, but as he moved back to the guitars, he explained that he'd written it at a time when he was going through a huge number of changes in his life, which were both bewildering and painful.

The following number was played on the other guitar (another Gibson J45, which he'd apparently bought just in case it was better than Miss G, but he confirmed that she's still the best!). Our guitar playing friend told us that it was in open tuning, and Ralph played it with a slide for a stunning version of 'Birdman' which we think should be a strong contended for the next Songs for Six Strings CD.

Then back to Miss Gibson for 'Zimmerman Blues', which was introduced by an account of who Angela was, and why the concert for her by 'His Bobness' raised questions in Ralph's mind. Then, with no comment before or after, he played 'The Hiring Fair' – an old favourite I'm always pleased to hear.

Next, back to the keyboard, for an explanation of the title of the tour (An English Heartbeat), leading in, of course, to 'England', and an admission as to why he has split up the 2 keyboard songs in his set.'Stranger to the Seasons' was next, along with details of Billy Connolly's connection with its composition.

After this SoL, followed by an instrumental from his new album, which he noodled without benefit of sofa - 'Housewife's Choice'. As well as explaining its title, he gave a brief plug for the new album at this point, and a longer one (for which he apologised!) for SF6S. (Incidentally, during this he explained that these 6 CDs will become available one per year over the next 4 years, and that you will be on sale at gigs and the website only, and will include live tracks form the preceding years tour – something which is surely incompatible with this being his last tour / major tour?)

A tribute to Bert Jansch, followed by 'A Kiss in the Rain', then the final song - 'The Ghost of Robert Johnson'.

Much applause, then the encore - 'Somewhere Down the Road'. Finished at 9:47.

As I mentioned, Ralph was on really excellent form. I thought that a tiny bit of nervousness showed in his voice for the first couple of songs, but after this his voice was excellent if understandably sounding emotional in 'A Kiss in the Rain'.

We took 3 friends with us last night – one had come for the 3rd time, one for his second, and the third for her first ever Ralph gig. All of them where duly impressed. Rachel, there for her first time, commented on how good his voice is for his age, and how much his 'talking bits' had added to her enjoyment of the songs. One of the other friends with us is a multi-instrumental player and singer himself, and, as on his previous trip to hear Ralph was blown away with the standard of his guitar playing (not surprisingly!)

I think that Rachel's final comment summed the evening up for me –'He keeps mentioning various artists that he said were better guitarists or songwriters than him – can they really be, or is he just incredibly modest?'

The latter, I'd say.

back to top

Hull Folk and Maritime Festival


Saturday 18 Aug 2012
John Beresford

Ralph headlined at the 2012 Hull Folk and Maritime Festival Finale Concert. He was supported by Michael Chapman, sometime Hull resident and mesmerising guitarist; and Edwina Hayes, honorary Yorkshirewoman, whose most upbeat number was a Leonard Cohen cover (her admission, not my judgement!).

The concert was staged in the Holy Trinity church, which is in the Guinness Book of Records as England's largest parish church (by area), and which has wonderful acoustics and a real ale bar (for the night).

Ralph was on top form as he accompanied Miss Gibson for a set comprising a good mixture of current and older repertoire:

Walk into the Morning
Nanna's Song
Blind Faith
First and Last Man
Around the Wild Cape Horn ("I don't know any sea shanties")
First Song
Barges
Jesus Wept ("Appropriate in these surroundings")
A Kiss in the Rain
The Girl from the Hiring Fair
After Rain
Streets of London ("Let's raise the roof")
The Ghost of Robert Johnson
(Encore) Somewhere Down the Road.