RALPH, ALBERT & SYDNEY
TELLING TALES

An occasional series in which John Beresford explores the stories behind Ralph McTell's discography.
Brighton Belle
One of Ralph's earliest memories is recounted in his song 'Brighton Belle'. It tells of when, soon after the war, he went for a ride on the footplate of a locomotive being driven by his Grandad. The last verse says:
In the middle of the platform down at East Croydon Station
Standing in a glass case was an ancient stuffed Alsatian
Collecting for the orphans of the railwaymen who fell
In the war that came before the pretty Brighton Belle.
Small World
I was working at home on the computer when Bern pinged me:
Well, well, small world, eh? Track 2 on that Ralph McTell CD you gave me is called 'Brighton Belle', or some such. There is a line at the end about a dog collecting money for 'the orphans of the railwaymen'.
Well, my Dad was director of the Southern Railwaymens' Orphanage in Woking, renamed The Southern Railwaymens' Home for Children in the '60s. He met my mother there, and I lived there until I was ten.
And that dog used to give my Mum nightmares, because it used to be in the entrance foyer until the '80s. I remember it coming from Croydon specifically. There was a labrador at Woking.
The connection goes deeper - my Grandad used to work on the Southern too, as did his father. More South West than South Central, but they may have met Ralph's Grandad.
Bizarre, eh?
The Orphanage
The London and South Western Railway Servants' Orphanage was founded in South Lambeth in 1885, "for the fatherless children of Railway Servants of every grade at all stations served by the London and South Western Line". A 'New Home' was opened in Woking in 1909 for 120 children. More than 3,500 children were cared for over the years. In more recent times, the home's scope was expanded to include provision for retired railway workers.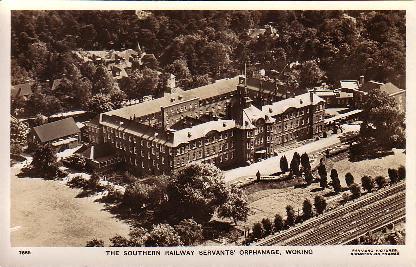 The 'New Home', opened in Woking in 1909
Collecting Dogs
The original railway charity collecting dog, 'London Jack', was a familiar sight at Waterloo station at the end of the nineteenth century. After his death in 1901, he was preserved and placed in a case so that he could continue to raise money for charities. The idea obviously caught on, for the Orphanage's 1916 annual report lists fifteen dogs and the amounts they had collected. The current 'London Jack' raised £249-14s-9d , whilst two of his preserved predecessors accounted for £7-17s-2d at Bournemouth Central and £7-8s-7d at Southampton West.
Standing in a glass case was an ancient stuffed... terrier

Three dogs are listed at Wimbledon – 'Wimbledon Prince', 'Wimbledon Rem' and 'Wimbledon Nell's case'. It is believed that one of the Wimbledon dogs was an Alsatian. What is known for certain is that the 'cases' were moved to different stations from time to time, so the Alsatian Ralph saw at East Croydon some thirty years later may well have been Prince or Rem - or even 'ancient' Nell.

Bern's Mum's nighmares were caused not by the 'ancient stuffed Alsatian', however, but by a smaller, though no doubt just as scary, preserved terrier, which seems to have ended up at the Woking Homes via East Croydon in the 1970's.
The Brighton Belle
In 1908, a train of exclusively first-class Pullman cars was introduced to make two journeys daily between London Victoria and Brighton in exactly one hour. The service, originally christened the 'Southern Belle', was renamed the 'Brighton Belle' when the line was electrified.
Ralph's memory of his childhood trip on his Grandad's train was rekindled when he took a ride in a restored Pullman dining car during his Autumn 2007 tour. That story is told here.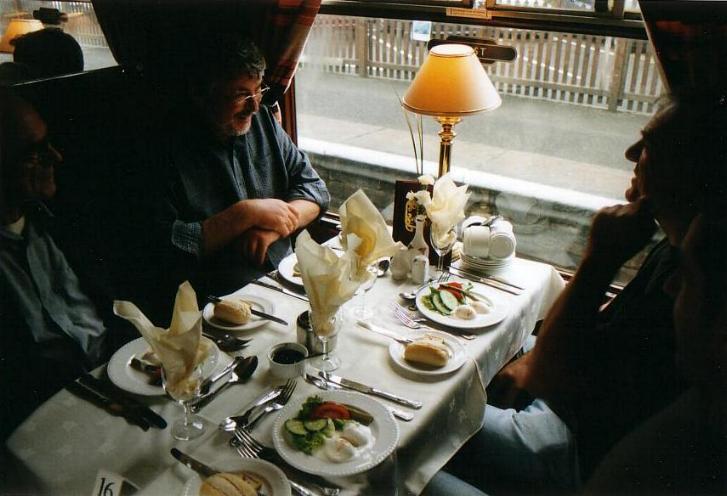 The colour scheme was brown and cream, some called it sand and sable
There were curtains at the windows and a lamp on every table.
---
With thanks to Graham and Bern Warr for sharing their family memorabilia.
All illustrations are the copyright of their owners or publishers and are reproduced here for information only.
---