In June 2015 Andy Langran visited his friend Geordie in Belfast. They share a love of music, and Geordie remembered that Ralph McTell was one of the few performers to gig in Belfast throughout the Troubles. Andy asked Ralph to write a few words about those days. Ralph replied:
I have never sought any acknowledgement for playing in the north of Ireland during the Troubles. I honestly had no problem but perhaps an item might be of interest historically. Before I begin perhaps you could research an article which appeared in the Sun Newspaper when on one trip I was accompanied by a journalist called Bob Hart from Australia. We have remained friends over all the years and I see him each time I visit Oz. He might be a source for you if he kept a record of our trip. I think I would have to refer to the piece for some light relief. If you find it let me know and I will try to write something for you.
Andy contacted Bob Hart as suggested, and Bob wrote back:
G'day Andy,

Good to hear Ralph still remembers our adventures in Belfast. It was a bit scary at the time, but nothing a few beers couldn't prepare us for.

I remember it well - being bailed up by a couple of squaddies (British soldiers) when we went for an ill-considered stroll down the Falls Road to take a look at the conditions for ourselves. Those beers again…

The solders held us at gunpoint until we could explain who we were and what the hell we thought we were doing. Those were dangerous times. But finally, after I had promised to send them each a copy of The Sun's famous Page Three girls calendar, they released us. They got their calendars, and one of them wrote to me apologising for frightening the lives out of us.

I did suggest to Ralph that 'Streets of Belfast' would be a great name for a song but, so far…

Cheers,

Bob
---
Ralph's Northern Ireland Notes
The first time I went to Ireland was to Belfast in 1969. I was appearing as part of the Belfast Festival with Mike Cooper, a well know slide guitar player and singer in the Mississippi Delta blues style. Mike was known to me through the folk clubs and occasionally Les Cousins in Greek St.
Belfast at this time was going about its business as usual, but as part of my early stress symptoms I had a premonition of the plane crashing and elected to go by train and sea crossing. I docked in Larne about 6 a.m. and wandered with my suitcase and guitar in hand to the town centre and stood in wonder at the mighty City Hall soon to become a well-known icon for protest and political rallying.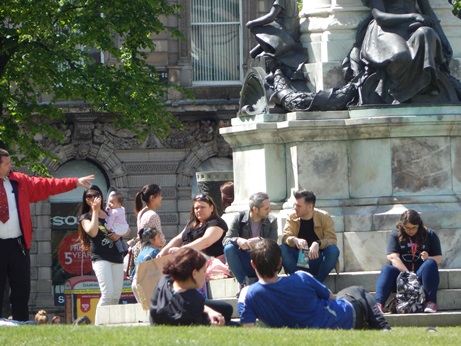 In the grounds of City Hall, 2015.... once a place of protest
I arrived cold and hungry but found an early morning cafe and had a bacon sandwich and a cup of tea. I think Mike and I had "digs"' and when I eventually arrived, Mike was relaxed and rested, while I was wired, tired and excited all at the same time.
Our venue was the big student refectory in the old building of Queen's University. The room was dark and studious with Victorian and Edwardian paintings around the walls, I presume of various college dignitaries. The first night went very well and by the end of the week we were sold out (I think). In any event I enjoyed the experience immensely. The Belfast audience was marvellous - appreciative of our contribution and warm and friendly off stage.
Sometime during that week I heard about a "Civil Rights March" which had been attacked by a mob. Previously I had only ever heard this term used in an American context and I was puzzled. When it was revealed to me that the protest had been about the Catholic population being denied voting rights, the words of my old friend Malcolm Pepper (see As Far As I Can Tell) came back to me from 1962 about Orange men and gerrymandering of votes. Although this news perplexed me, far more pressing to me was my ongoing premonition of crashing planes and I elected to go back by boat and train to England. I began to take an interest in Irish politics in the broadest sense. I learned the names of the leaders and protesters and the heard the passionate speeches of Ian Paisley.
Our week in Belfast had gone very well and I was invited back to the festival the following year and accepted without thought – this time I flew there and had a wonderful gig. By this time Queen's University was in the vanguard of discussion and the debates were strong and vehement. I am not sure of the chronology of events, or even if the IRA were active at this time, but without going into reference books I believe there were rumblings of protest and the provisional IRA was formed.
I believe I went every year through the Troubles and never had any fear about it or my performance. I never knew the composition of my audience in terms of religious classification and I never asked. My trips to Belfast continued outside of the festival but Michael Barnes (later Sir Michael) always made sure I had a gracious welcome and I loved playing there.
However, the ever present patrols of armoured cars troubled me and the fact that the soldiers would have had live bullets in their automatic rifles and that it is impossible for most of us to tell by looking who is catholic and who is protestant or who is loyalist and who is nationalist added a tension and mistrust that simply had to be dealt with if some appearance of normal life was to prevail. Pre and après playing the craic was fantastic and perhaps I was beginning to sense that coming over from England was an important gesture and possibly overrode the musical content. People might have been coming to my shows because I was from overseas.
The Miami Show Band massacre by loyalist paramilitaries seemed to stop most acts from the Republic appearing as well, but still I came over whenever I was asked and I remember the first year that I did not appear with a kind of sadness. I had tried with little success to stress the positive points of playing in NI to fellow musicians, but in a band situation you only need one member of the unit to have doubts and that will stop the others.
I played all the main venues in Belfast (including one or two that were subsequently destroyed by bombs.) I always stayed at the Europa even whilst it was being repaired after bomb damage. The Europa I believe was the most bombed hotel in the world, at least up until a few years ago. There were many jokes about the glazing and building firms that seemed to be perpetually employed there. The entrance to the hotel was harder to pass through than Checkpoint Charlie but the spirit of the place never faltered and a grim acceptance of the situation prevailed on the outside and all jollity continued on the inside. Bomb alerts became ignored by seasoned guests and I suppose a wartime fatalism descended. I remember talking with the Furey Brothers about how they refused to get up after an early morning alert and I did the same on more than one occasion.
In the midst of all this I was contacted by an Australian journalist called Bob Hart. He wrote for the Sun newspaper and like most Aussies was up for an adventure. He asked if he could come to Belfast with me when I next appeared. We agreed and hit it off immediately from the moment we got on the plane. Bob perhaps slightly naively wanted me to pose in front of military pill boxes etc to make good copy for his article. I was slightly more cautious, sensing that this was asking for trouble, as there were armed British soldiers inside, and with the Troubles at their peak sure enough we were arrested. I was confident Bob's explanation and bravado would carry the day and sure enough he promised to send all the soldiers calendars of Page Three girls and we were warned not to be reckless and released.
I met quite a few people who showed signs of nervous tension as what seemed to be indiscriminate bombings and revenge ravaged these fundamentally decent people polarised by their history and culture and living under a heavy military presence. Through the brutality of events and disruption of 'normal' life, the deprivation of visits from across the water was felt most strongly and only seemed to underline their feelings of rejection by their near neighbours. I did my best to persuade others of the welcome they would receive but with little success.
Sometime in either 1972 or 73 I went to Dublin for the first time and was very trepidatious of how I would be received. I need not have worried. Danny Thompson came with me and insisted my visit began with a pint of the black stuff and half a dozen oysters. The late and very great Luke Kelly from the Dubliners became our host and after an extraordinary gig at the Carlton cinema he took us round the city where we finished up in some sort of night club disco. Here he introduced us to two likely lads who were both in the IRA and one of them had been on the helicopter that pulled a leading IRA prisoner out of Mountjoy Jail. The two young men were overjoyed to meet Danny andme and it was indeed a strange feeling to be in the presence of these young rebels and undeniably committed persons.
Strange for me but not for them. Such might be the unifying force of music. I have often pondered on this.
I was on tour in Ireland at the time of the subsequent deaths of the hunger strikers following Bobby Sands. Thankfully I was not driving myself but being driven around by someone I had known on previous trips. Ben had at one time been the tour manager for my dear friend the late Jim McCann. It was a sombre time indeed and I felt very marked by the deep sadness invoked by these young men's political suicides. To some they were terrorists who saved the British government the expense of keeping them alive in prison. To many others, especially Republicans in the North, they were heroes in the true tradition of soldiers in the IRA making the supreme sacrifice for their cause.
I was more aware of Britishness and if there was ever a time I needed the power of music to transcend politics it was on this tour; not because of antagonism towards me, but because of my own feelings. Of course I could see both sides and points of view but it was my Government, far away in Westminster, that had refused to give these prisoners political status. I began to write something in a note book about Black Flags at the Crossroads but I could not just report the events. It was too affecting and I felt as a British person that I bore some of the weight of responsibility in my mind. I think it affected my whole demeanour on that trip and, for the only time ever, I was not sorry to leave Ireland after that tour. Not anything to do with the audience or attitudes from my hosts who were as gracious as ever and the subject seldom came up. But there were those black flags. It chills me even today to see them fluttering in my mind.
As you drive through the North today, wall murals commemorating the hunger strikers are kept in good order and the paint is not allowed to fade, nor the memory of those times. There is no doubt still a long way to go before final reconciliation.
As my visits to both sides of the border continued, the siege like mentality in Belfast became more extreme in its determination to celebrate through music, and I remember when Billy Connolly and I did a week in Queen's University Whitla Hall that we discussed the joy of playing to Belfast audiences. Billy told me that it was not just the "Troubles" that galvanised the audience into such generous appreciation, but that it had always been that way. In conversations with one of his heroes, Max Wall, Max had said that whenever the old music hall comics saw Belfast on their list they knew there was going to be at least one great night for them.
People in Britain began to really take notice when the violence was exported here and I began to be asked if I had any trepidation about going to play in Belfast. My answer has always been the same.
As a musician I benefitted from the enormous warmth and appreciation of one of the best audiences in the world. If that enthusiasm was enhanced by my being from across the water, then that was also my good fortune. On my part there were no heroics. It is the people of Ireland who are the heroes. Their determination to see it through and to find peace honourably still has a way to go. I had hoped to see it in my lifetime; it may take longer, however I do sense that they are getting there. Already there is a generation of young people who have grown up in comparative peace. Surely by now we have learned that a person's sense of belonging or alienation comes from identifying with the history and culture of upbringing as well as environment.
A terrorist to one group is a hero to another.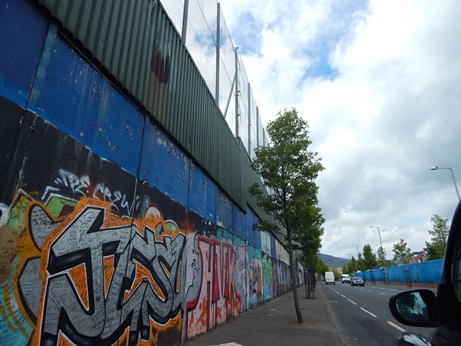 The "Peace Wall"… dividing Belfast still
To deny the factor of religion in the Irish Troubles would be idiotic. Religious divide was a part of that process and it's no use trying to shut the stable door after the horse has bolted. There are lessons here for the British community. Separating children at school based on their faith is not the way for a united community. Religious schools, if they must exist, should happen after regular school finishes.
I have always felt a kinship with Irish people not least because their culture has art written into its DNA and music, poetry, song and dance are vital and became even more vital during the Troubles. I grew up with Irish neighbours (Mr Connaughton) and after my long stay in hospital after my road accident in 1949 arrived home with an Irish accent, picked up from my favourite nurse in hospital (As Far As I Can Tell).
My life and music have benefitted from my Irish experience and one of my proudest moments was finding my song From Clare to Here in a song book of Irish music. Where my writer's credit should have been, it simply said, "Traditional."
Ralph McTell
July 2015
---
Geordie's Belfast Memoire
Some English friends came over to Belfast last weekend and it was interesting to hear how they interacted with our city. Today it really is like many British and Irish cities. Not an easy trick to pull that off, but we do it rather well.
My friends visited some of the memorials to our past "difficulties". To be honest I wouldn't be able to tell you where these memorials are. However tourists now find them and react to them in the right way, as history.
For those of us who lived through those times, perhaps it's a little too soon to have that mind set. We are delighted that the "Troubles" are over, but we are not yet ready or able to consign them to the sterilised past.
As a boy and a young man this was a dangerous place to be. We who lived here adapted to events as they happened. Bombs would go of, the all clear would be given and we would go about our day. It was only when it became personal with the death of friends or relatives that it impinged on a deeper level.
Music became my escape route. I loved the whole Californian singer-songwriter genre. I also loved the Blues. Of course none of the artists I loved would come within a country mile of Belfast. Chart artists sometimes sneaked in, but their visits were so secret that they could be here and gone before you heard about it.
Two people came every year, or so it seemed: Rory Gallagher and Ralph McTell. We loved them for that. Rory would take up residence in the Ulster Hall, either around Christmas or early new year. Think about it! Rory, an Irish Catholic from Cork City, welcomed by all the kids from both sides of the community. A sea of denim and plaid seriously wrecking the foundations of the Ulster Hall as they stamped their feet chanting "Nice one Rory, nice one son, nice one Rory, let's have another one."
I didn't see Ralph in those days, but his music was everywhere. His songs were sung at social gatherings and school concerts. I remember my crowd in the school art room studiously trying to master Streets of London and Sweet Mystery.
I eventually saw him one beautiful Saturday afternoon in the Botanical Gardens. If you squinted your eyes enough and had imbibed just the right amount of cider you could allow yourself to believe you were in San Francisco. He was mellow and warm and the crowd sang along. When he sang From Clare to Here we all had tears in our eyes.
The mood was all but destroyed however when some idiots screamed "What about the H Blocks?" They were hustled away by the police, but somehow the mood was broken. Only good manners and gratitude kept us in place. The same thing happened a few months later at a Van Morrison concert - his first in his home town in nine years.
Today we attend concerts in purpose built arenas, where all the enjoyment is organised out of the proceedings. I sometimes long for that day in the Botanical Gardens when Ralph sang and we cried at the beauty of his songs. Nostalgia makes me long for the edginess of political protest. Perhaps the sterilisation process has started after all.
Geordie Abbs
Belfast
June 2015